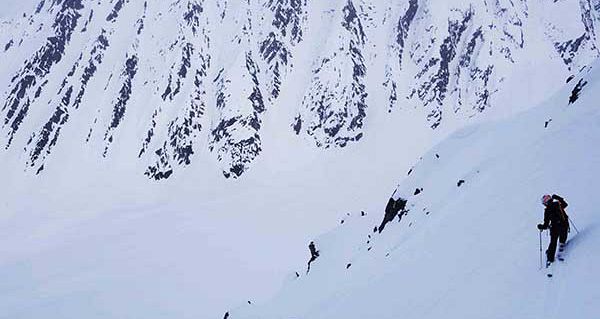 INTERESTING FACT NO. 8
The highest snowfall ever recorded in a one year period was 1224in/31m in Mount Ranier, Washington State between Feb 19 1971 and Feb 18 1972.

INTERESTING FACT NO.15
40 US states have ski resorts.

INTERESTING FACT NO.16
The first American woman to win an Olympic skiing gold medal was Gretchen Fraser, who won the gold in the slalom in 1948.
Overview
Choosing where to ski in the USA can be a daunting task. 427 ski areas (according to Wikipedia) are spread across almost every state and the diversity of offerings is huge. Whether you're a family of beginners, a couple seeking a romantic escape or a powderhound looking for some serious adventure, there is something for everyone.
But regardless of your needs when you ski in the USA you will find resorts with great lifts, perfectly groomed slopes, friendly service and, if you're lucky, some powder snow.
The best known resorts are in Colorado – where the Rocky Mountains provide a wide variety of terrain, great scenery and relatively reliable snowfalls. The resorts themselves range from the flashy (Aspen Snowmass, Beaver Creek and Vail) to the laid back (Crested Butte, Breckenridge, Copper Mountain and Winter Park), to classic Western Cowboy towns (Telluride and Steamboat) that ooze with tradition and friendly vibes.
Then there's Utah where powder is dry, fluffy and plentiful. If you're the adventurous type who prefers extreme skiing head for Alta or Snowbird. Or if it's nightlife, shopping, luxury and family activities that's more your scene you'll find the big resorts of Deer Valley and Park City are perfect.
No longer a secret, Jackson Hole, in Wyoming is consistently voted as a favourite of Scout (especially among more advanced skiers) owing to its steep terrain, vibrant après scene, spectacular mountains and huge dumps of snow. Head onto Big Sky in Montana, and experience some of the best expert skiing in all of North America (even the most advanced skier will be shaking in their boots!), or shoot through to Idaho, where the sun is shining at Sun Valley and the ski resort is deep in tradition and history. Alaska has always made a name for itself as the epitome of steep and deep, and Alyeska is an incredible spot to warm up for those bucket-list heli-ski adventures.
In California, the skiing takes on the personality of the whole state. The resorts here are friendly, fun and the sun shines often. That's not to say they don't get snow – Squaw Valley and Kirkwood in Lake Tahoe receive as much as the Utah and Wyoming resorts. With stunning lake views and skiing to match, the area's other impressive resorts (Heavenly, and Northstar) have something to suit every taste, ability level, and budget, or take the trip to Mammoth, where everything is bigger and better!
One thing is for certain, once you've had a taste of skiing in America, you will definitely want more.
Scout Picks
Best Resorts for Families: Steamboat, Deer Valley, Snowmass, Keystone, Northstar, Beaver Creek
Best Powder: Jackson Hole, Alta/Snowbird, Mammoth, Squaw Valley
Best Places for Back & Sidecountry Skiing: Alta, Big Sky, Kirkwood, Jackson Hole
Best In-Resort Tree Skiing: Mammoth, Squaw Valley, Snowbird, Jackson Hole, Steamboat
Best Terrain Parks: Winter Park, Aspen, Park City, Northstar, Mammoth, Breckenridge
Best Resorts for an Authentic American Experience: Telluride, Steamboat, Jackson Hole, Sun Valley, Crested Butte, Park City
Resorts with Fewer Crowds: Big Sky, Sun Valley, Alyeska, Copper Mountain, Crested Butte
Best Value for Money: Steamboat, Kirkwood, Breckenridge, Crested Butte, Copper Mountain
Best Restaurants & Nightlife: Park City, Vail, Aspen, Jackson Hole, Telluride
What to Expect on the Slopes
The skiing and snowboarding experience in the USA is definitely memorable and it will want you coming back for more every year. With so many resorts on offer across the country, you're sure to find one to cater to your ability level and style. At many of the resorts you'll find plenty of runs for beginner and intermediates (think wide, perfectly groomed runs for cruising around), and most haves ample black/double black runs to challenge even the most advanced skier. USA is renowned for its extreme skiing options, tree-skiing, challenging verticals and steep pitches. However, almost all of the resorts have designated beginner and runs for those participating in lessons so you're away from the crowds and in the best environment to learn. The ski schools at the majority of the resorts are internationally renowned, with highly qualified instructors and a range of programs to suit everyone.
Backcountry is also a major drawcard for many resorts, and most offer affordable guiding services that include the required safety equipment (a necessity for all skiers heading into the backcountry). For terrain park lovers, USA is home to some of the largest, most advanced, purpose-built terrain parks in the world, hosting a variety of international skiing and snowboarding events each season.
The chairlift infrastructure varies at each resort, however most have well developed on-snow facilities, with a wide variety of lift operations including gondolas and high-speed quads/six packs. Some of the resorts are yet to have a major overhaul of infrastructure, or are slowly upgrading their lift system, so expect a mix of modern and dinky chairs (this just adds to the charm of the resort).
During peak periods, lift lines are expected at many of the larger ski resorts. Especially over the school holiday periods in December and January, visitor numbers are at their peak. Avoid the crowds by travelling off-season, or head to a lesser-known resort and explore somewhere new. Weekends and big powder days can bring more crowds to most of the resorts within easy access from major towns and cities.
Resort Culture
Each ski resort in USA offers a different experience for skiers, however, the majority of the resorts are well-developed, with world-class facilities that cater especially to ski holiday makers and families. Many are purpose-built resorts with all the bells and whistles, whilst others are rich in tradition and history, and are connected to local towns. If you're after a happening après scene, you can't go past Park City, Vail, or Aspen, with countless numbers of bars and local restaurants to explore each evening. If you're looking for a family friendly ski vacation with everything you need to keep every member of the clan happy you can't go past Keystone, Copper Mountain, Heavenly, Steamboat, and Deer Valley, with fantastic facilities and amenities to ensure a fun and hassle-free family ski holiday.
There are some resorts that offer a good mix of local culture and heritage alongside great skiing. These, such as Telluride, Steamboat, Jackson Hole, Crested Butte and Sun Valley have historic mountain towns close-by for skiers to enjoy the local produce, shopping, non-skiing activities during their stay, and an authentic American ski-town vibe where they can meet the friendly locals. Some resorts cater to those who are the most avid skiers, with incredible terrain but with fewer facilities and a less crowded après scene including Kirkwood, Big Sky, and Alyeska.
If you're after quick and easy access to the ski resort with minimal travel time, there are plenty of options close to major cities, with reliable transfers to and from the resort area. Copper Mountain, Jackson Hole, Winter Park, Aspen, Park City, Alta/Snowbird and Breckenridge are all close to major airports, some so close you can ski within an hour of landing.
Services at the resorts are well catered to families, with a decent selection of shops where you can buy and rent ski gear, as well as ski schools with internationally certified instructors. Childcare is also easily provided at the majority of ski resorts. Many of the purpose-built ski resorts and ski towns have endless options when it comes to retail shops, restaurants, and non-snow activities.
What it costs to ski in the USA
Skiing in the USA can be relatively affordable if you pick the right resort and right time to go. Saying that, there is accommodation to suit every budget at most of the ski resorts, and even ski-in/ski-out options that won't break the bank.
The price of lift tickets varies considerably between resorts, and we've seen an increase of lift tickets prices, ranging from $100 – $200 at the ticket office. However with the introduction of the Epic Pass, IKON Pass, and Mountain Collective, it is now rare to purchase lift passes at the ticket window when pre-planning a trip. These passes have reduced the price for many skiers who spend more than 2-3 days on the slopes - particularly if they visit multiple resorts. Taking advantage of the Early Bird offers available through Scout also reduces the price considerably. Most of the resorts have great deals for families, with many 'Kids Ski Free' and 'Free Kids Rentals' offers throughout the season, and universal 'Kids Under 6 Ski Free', as well as multi-day discounts. Some of these special discounts are only available when you purchase a ski package through an agent like Scout.
Eating out and après can be relatively cheap or a bit pricey, depending on the resort. Happy Hour is always a good idea, and plenty of bars have cheap drink and snack deals. Generally, on-mountain restaurants and bars are more expensive than those in the nearby towns, so having self-contained accommodation and the ability to prepare your own meals is a great cost-saver.
To get the best deals, travel in non-holiday and non-peak periods, and book early, taking advantage of the best Early Bird Deals each season (up to 50% off accommodation, lift tickets, and transfers!).
Contact Scout to help find the best deals as part of a USA Ski Package.
Getting There & Around
If coming to the USA from an international destination many visitors will hub via the West Coast, specifically San Francisco and LAX which have hundreds of direct international flights, and both are a major hub for interconnecting flights through to other cities. There are also direct flights from many countries to Denver International Airport, Salt Lake City, Chicago, Dallas, Atlanta and of course, New York. It will all depend on which resort you are heading to and which one has the best domestic connections. Most domestic flights in the US are well priced.
Scheduled airport transfers are generally supplied by the ski resorts, and are usually comfortable and efficient. The longer transfers can seem daunting, however, the views of the Colorado Rockies and surrounding mountain ranges and valleys are incredible. And just remember that the longer the transfer from a major airport, the less crowded it's going to be. Some inter-resort transfers are available between certain resorts, if you were keen for a day trip or multi-resort ski holiday. Greyhound Bus service is also another option for travellers who were wanting to explore a little further afield, and don't mind that style of travel.
If you want to have some freedom to do a bit of travelling around, renting a car is very easy in the USA. It's a great way to visit those resorts a little further off the beaten track, and tick off the ultimate Colorado or Utah Roadtrip off your bucket list. Many companies allow you to pick-up from one location and drop-off at another (though usually for a fairly hefty surcharge), so you can visit multiple ski resorts along the way. Snow tyres, GPS and roof racks are usually included, and experience with driving in snow and 4WD for the mountains is highly recommended.
Weather & When to Go
Skiing in the USA can be incredibly cold, especially towards the start of the season and in January. Temperatures in some of the more remote resorts can be well below freezing during the day. Layering is important when skiing in the USA.
Some of the more popular resorts can be extremely crowded over the December holidays as well as public holidays in January and February. Expect long lift lines and higher accommodation prices over these premium dates. Many lodging options are booked out more than 6 months in advance. Spring break school holidays also bring crowds, though as it's not as concentrated on a few particular dates the crowds are more dispursed. The best time to travel for least crowds and the most reliable snow are non-holiday January dates. There can be some great deals on lodging for these dates.
February is peak season for resorts in the USA when the snow is generally at its prime, however the beginning of December and in March can still offer great snow conditions (and some decent snowfall), and lifts and accommodation prices are much less. Spring skiing and the additional après ski in the sunshine is also a fantastic option for later in the season.
Recommended Stopovers
Denver
Denver is a fantastic gateway to the Rockies, but also a great place to recover from a long flight. At 5280ft (1609m) above sea level, it also helps prepare your body for the high altitude of many of the Colorado resorts. The city is a booming metropolis with the friendliness of a small Colorado town, a fantastic nightlife scene, and plenty of activities for families. Our top activities include:
Catch an ice-hockey game (Colorado Avalanche)
See some live music at Red Rocks Amphitheatre
Take the kids to Elitch Amusement Park
Visit Denver Aquarium, the Zoo, or Museum of Natural Science
Stroll through Larimar Square (top spot for nightlife and restaurants)
Check out some of the best speak-easy bars in Colorado
San Francisco
San Francisco rates as one of the best cities for a stopover en route to the snow, for families, couples and friends. There's just so much to do and San Francisco is easy to navigate around, which helps when jet-lagged. Although a major, bustling city, it retains a quaint and down-to-earth feel. Whether staying for a day or a week, you'll be delighted. Our top activities include:
Strolling the hilltop streets and admiring the cute wooden houses.

Taking a walk across the Golden Gate Bridge

Catch a cable car
Head to Union Square for excellent shopping and cool people watching
The kids will love Fisherman's Wharf
The famous

Lombard St for its twists and turns (and tourists).
Los Angeles
The City of Angels is the perfect place to spend a day or two on the way to the slopes. From beaches to shopping, basketball games and celebrity-spotting, there's plenty to do. If you've enough time, stay in Downtown, Hollywood or Santa Monica, and only stay at the airport if you must. There are plenty of direct (and mostly daily) flights to places such as Reno (for Lake Tahoe), Aspen, Vail, Jackson Hole, Denver and Salt Lake City. Our top activities include:
Visit the famous The Santa Monica Pier and beach

Go shopping (or at least window shopping) on Rodeo Drive.

Find your favourite star at the Hollywood Walk of Fame.

Make a pilgrimage to In-N-Out Burger.

Head to MOCA - LA's Museum of Contemporary Art

Visit the Griffith Observatory (a top spot to also see the Hollywood sign)
Seattle
Seattle is a popular stopover for those visiting the ski resorts in Oregon and Washington state, and a super trendy city for families. Not only is the city of Seattle easy to get to and around (the public transport system is unbeatable), it is a fantastic spot for families to spend a few days before their ski trip. Being a major US airport, Seattle has plenty of daily direct flights to the nearby ski resorts including Jackson Hole, Big Sky, Sun Valley, and those outside of Portland. Our top activities include:
Spend a morning at The Pike Place Market
Museum of Pop Culture and the Space Needle are fantastic for kids
Take a day trip to see the Museum of Flight and Boeing Future of Flight Aviation Centre just outside of the city
Visit the Seattle Aquarium and the riverfront
Check out Seattle's best restaurants at Belltown
Portland
Portland is a popular stopover option for those on a multi-resort ski vacation through Oregon and Washington. It offers a more laid-back and casual vibe than other larger cities in the areas. There a multiple daily flights to/from PDX which connect with many of the nearby ski resorts including Jackson Hole, Big Sky and Sun Valley, and a must-stop for those skiing Mt Hood and Mt Bachelor. Our top activities include:
A lazy brunch at one of the many great cafes
Kids will love the food truck parks scattered throughout the city
Explore the cute boroughs, including the riverfront and gardens
Take a food and wine tour (wineries, beer tours, even coffee and doughnut tours).
Hire a car and check out waterfalls along the Columbia River Gorge
Take a drive to the Oregon Coast (Ecola State Park and Cannon Beach)
Tillamook area west of Portland is wonderful for wine and cheese lovers
reviews
USA Ski Resorts
Search Hotels and Deals