Best Ski Resorts for Intermediates
May 12, 2020
There are endless ski resorts options to choose from when it comes to planning your next ski vacation. If you're an intermediate skier, you'll be seeking a ski resort that offers nice long groomers with perfect corduroy to make fast turns, a handful of runs with perfectly spaced trees, and a few opportunities to challenge yourself and take your skiing to the next level. Check out our list of the best ski resorts for intermediate skiers and snowboarders to help narrow down your choices!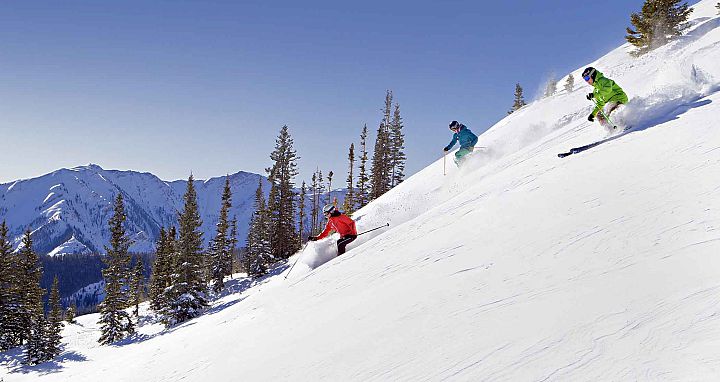 Aspen Snowmass offers a mammoth ski area that is tailored perfectly for intermediate skiers. From fantastic powder bowls and tree runs, to plenty of wide groomers for leg-burning top-to-bottom runs, each of the four resort areas in the Aspen region has something for each type of skier. Snowmass in particular boasts endless intermediate terrain, and you could spend a whole week exploring the resort and not ski the same run twice. Aspen Snowmass tops our list for the best ski resort for intermediate skiers.
Intermediates are well catered to at Copper Mountain, with endless options to explore. Off the Timberline Express you can find some fun blue runs, but we highly recommend heading to the long groomers heading off the high-speed American Eagle or Super Bee lifts (super fun!). The further to the (looker's) left of the mountain you go, the more advanced the runs become with lots of long, fast runs off the old alpine double chairlift and the Resolution Bowl. Get out on the slopes early on a powder day and you'll find fresh tracks all morning, or take advantage of Woodward (Copper's own freestyle terrain park) and fine tune those park skills.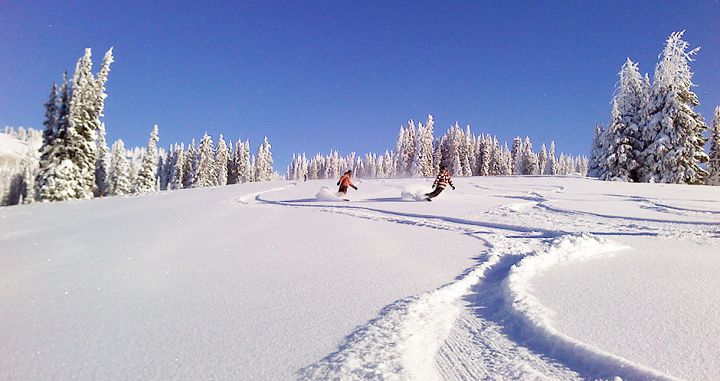 Steamboat Springs is well known for having some of the best intermediate skiing in all of Colorado. You're sure to find your favourite run in no time, with plenty of options spread across 6 different peaks (offering over 2965 acres of terrain to explore). Skiers and snowboarders will love the variety of groomed trail, each with varying pitches and perfect for long cruising runs. Scout loves that there are blue-black mixed trails, which allow intermediates to take the next step into powder skiing, with plenty of exit points. If you're a fan of tree skiing, you won't be disappointed with a trip to Steamboat.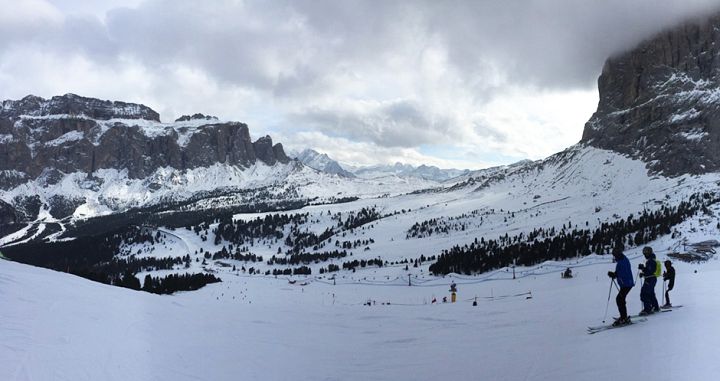 The Alta Badia ski area is a predominantly blue-run, intermediate skiers resort spread over a vast area. In particular, the world famous Sella Ronda - the ski "tour" that circles the Sella massif (a huge limestone formation) and dips in and out of several different resorts including Alta Badia, Arabba, Fassa and Val Gardena. A favourite among intermediate skiers, it's a great way to make some fast groomer runs and explore the whole resort area at a leisurely pace.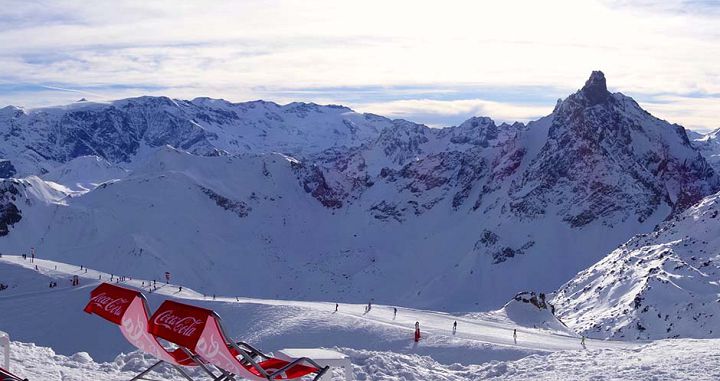 The overall 3 Vallées terrain area in the French Alps is one of the best regions for intermediate skiing. Thanks to its well-linked runs it's not impossible to ski all three (Courcheval, Meribel, and Val Thorens) in a day. Equally, it's so big (more than 600km of runs) that if you're there for a week, you'll rarely need to ski the same run twice. The resorts boast really great grooming and wide, open slopes as well as some more challenging, steep terrain it is well suited to intermediate skiers wanting to challenge themselves.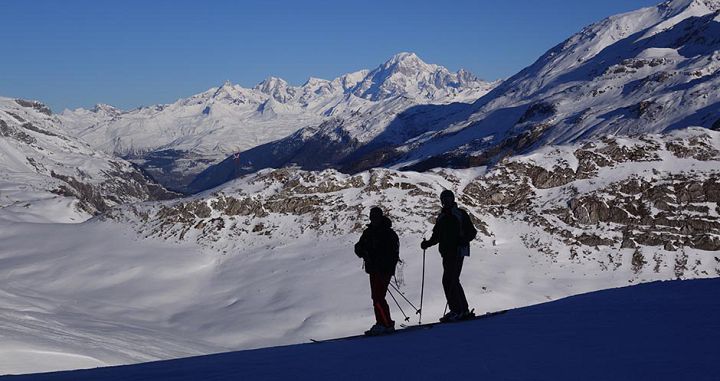 Intermediates will love Val d'Isere. Firstly, there is the super steep Bellevarde run (that was the 1992 men's Winter Olympics downhill course), and tons of wide open red runs for some high-speed cruising. But the main attraction is the fantastic off-piste, much of which is accessed via lifts, and a good introduction to powder skiing for intermediates. Due to its high elevation, the snow at Val d'Isere generally stays in good condition, and it doesn't always get chopped up quickly, so the runs are fun all through the day.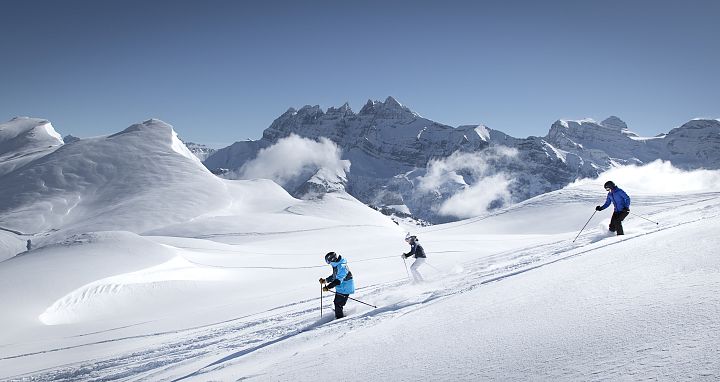 The combination of world-class ski resorts like Morzine, Les Gets and Avoriaz (and many more) that make up the Portes du Soleil ski area is the perfect mix for intermediate skiers.. This huge interlinked ski area boasts some of the best freeride skiing, from nice and long groomers to top-notch off-piste, and the snowfall is often the best conditions of any areas in Europe. Avoriaz is the highest village in the area and in particular is an intermediate's paradise, with seemingly unlimited options whichever way you look.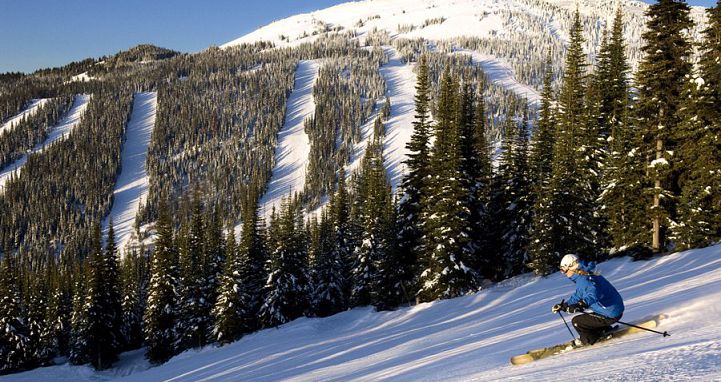 Sun Peaks really is an intermediate skiers' paradise. More than half (52 per cent) of the resort is rated as intermediate. This terrain is made up of long, well-pitched, expertly groomed runs, some beautifully gladed trees (particularly on Mt Morrisey) and short but fun sky-high runs at the top of the West Bowl T-Bar. Most intermediates will also be able to enjoy many of the black runs, since they aren't crazy steep and are well maintained. As the second largest ski resort in Canada (behind Whistler Blackcomb), Sun Peaks offers endless skiing opportunities to intermediate skiers.
Spread across 2225 acres of Andes mountain terrain, Valle Nevado is known for its fun intermediate groomed runs, and endless off-piste lines. The resort is ideal for progression, with several black runs with increasing pitches are accessible from the top lifts. The surrounding valleys provide natural half-pipes, gullies, and bowls which are an absolute joy for intermediate skiers, particularly becoming a powder playground when Mother Nature provides. Valle Nevado is interconnected with El Colorado and La Parva resorts, both of which also offer fantastic intermediate terrain and plenty of opportunities to explore further afield.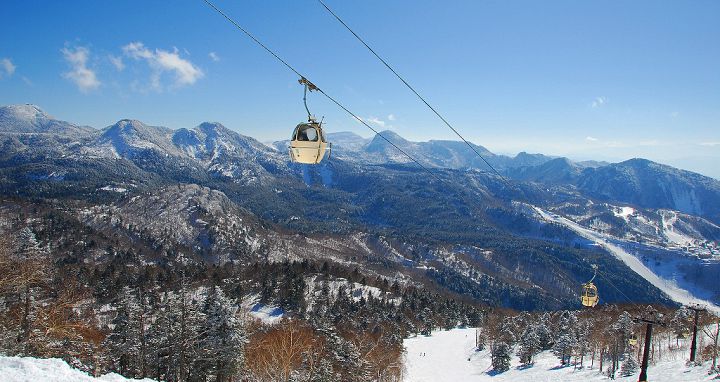 Shiga Kogen is an intermediate groomer lover's paradise. It's one of the biggest (and highest) ski areas in Japan with 21 mostly interlinked resorts scattered among five valleys. Being impressive in size, it presents intermediate skiers the opportunity to endlessly cruise and explore. Ideal for those seeking progression, there are only a few steep runs, and the tree skiing is relatively tame. This ski resort is one of Scout's favourites since it gets less traffic and has some nice long runs accessed by a gondola.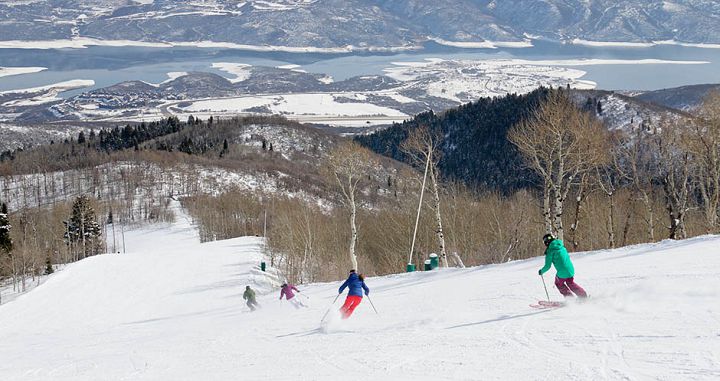 Deer Valley is spread across 6 mountains, with over 2026 acres of terrain to explore. Intermediates will love the easy progression from lower level to more difficult runs. Fabulous groomed runs, especially some of the black runs, are incredible fun for intermediates too, and you can find a few off-piste options between the runs on the Northside. The standout at Deer Valley for intermediate skiers is the incredible grooming of the resorts piste - better than any groomer you've ever skied before!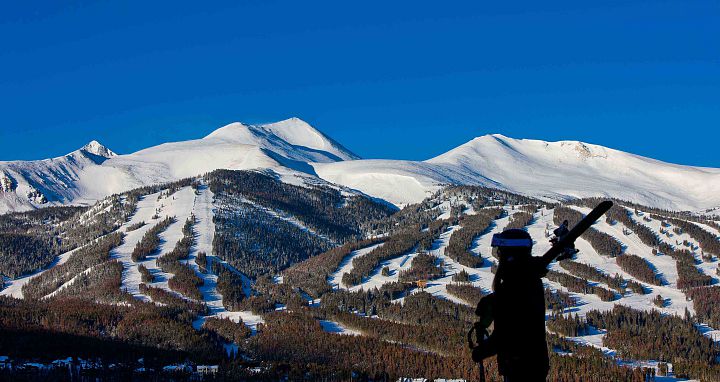 Breckenridge is perfect for intermediate skiers - the resort area spans over five huge peaks and with five terrain parks, two half-pipes, and eight alpine bowls so there is endless piste runs to explore. Peak 7 and Peak 9 have great blue and green groomed trails which are nice and wide and feed back into the main town of Breckenridge. Peak 8 and 10 are popular for upper intermediates and those wanting a challenge, with some below-the-treeline skiing and small but fun tree runs. Breckenridge also has one of the best terrain parks in all of North America!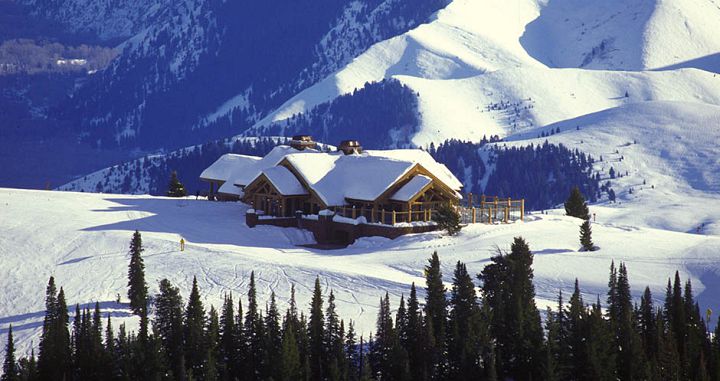 For intermediate skiers who love relaxed, gentle, and laid back skiing, Sun Valley is for you. Intermediate skiers will have a blast on the main Bald Mountain side of Sun Valley resort thanks to the huge variety of smooth runs and the easy off-piste skiing. There are mellow gladed areas – particularly the runs off the top of the Mayday lift - which provide a fun playground for upper intermediates delving into powder skiing. Sun Valley's real highlight is the long, wide and often steep groomers that will have your quads screaming for a rest!