World's Most Iconic Ski Runs
May 15, 2020
There is a list of ski runs that are on the must-ski list for every avid skier. Whether it is home to a famous Olympic event, a knuckle-biting double-black that you dare to tackle, or a cruisy groomer in memory of a skiing great, there are a number of ski runs that are simply iconic. Here is Scout's list of the world's most iconic ski runs to add to your ski dream list!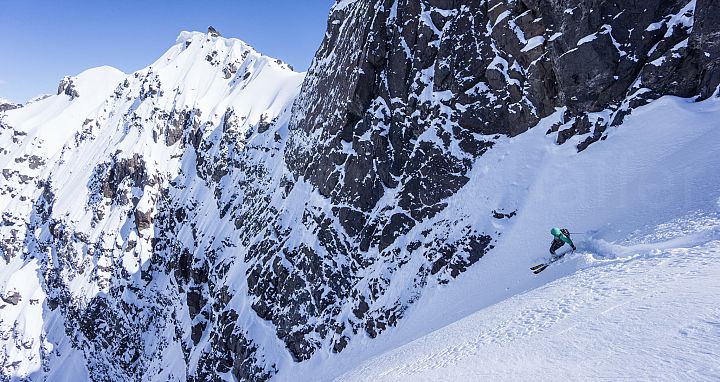 At the very top of our list is the famous Super C couloir - a classic backcountry ski line that has you soaring above Portillo in true bucket-list style. It is not for the fainthearted, and requires a strenuous and challenging two-hour hike, but the reward truly makes it all worth it. The pristine views alone of Aconcagua (the largest mountain in the world outside the Himalaya) are breathtaking as you reach the peak of your climb. The couloir itself boasts a perfect 45-degree pitch, and on a day with plenty of fresh snowfall, skiers are in heaven with over 5,000 vertical feet of steep untracked powder. You'll be whooping and hollering all the way back down to a well-earned après session!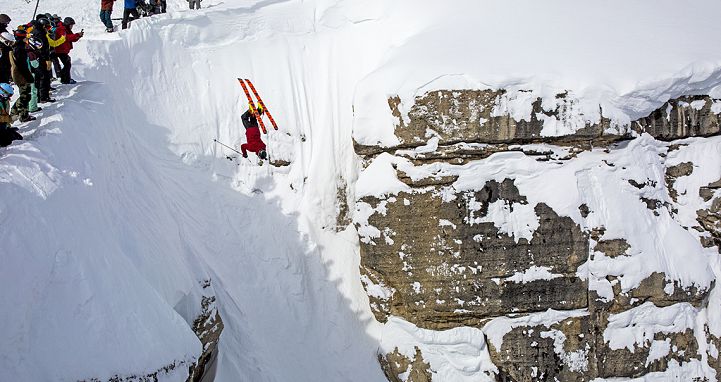 If there is one ski run in the world to impress your ski buddies it is the legendary Corbet's Couloir in Jackson Hole. Home to the famous Kings and Queens competition held each season, it is truly one for the bucket list. The run is named after local mountaineer, Barry Corbet, who spotted a narrow crease of snow shaped like an upside-down funnel, and thought "someday someone will ski that"! The couloir is front and centre and one of the most visible lines at Jackson Hole, with the tram passing by every 10 minutes, and crowds of spectators gathering at the top to watch those brave enough to take the plunge. It is intimidating and heart-stopping, but fantastic snow awaits below for those willing to clip in and make the decent.
Find the Corbet's Couloir on the Jackson Hole Trail Map here.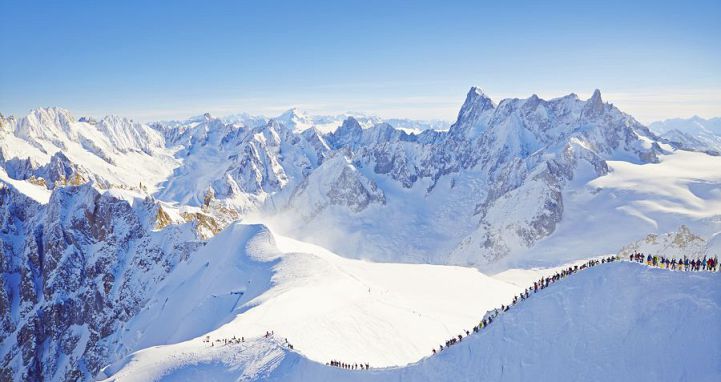 For those seeking a spectacular high-alpine off-piste decent in Chamonix, the Vallee Blanche is unbeatable. This 20 kilometere glacial route offers stunning alpine views of Mont Blanc and over 3000 metres of vertical drop, and attacts thousands of keen expert skiers each year. Easily accessed via the Aiguille du Midi cable car, there are several routes to choose from (almost all unmarked and unpatrolled), and with many requiring strong mountaineering skills, a mountain guide is strongly recommended. Depending on which route you take, skiers are challenged with nail-biting ridges, large crevasses, and heart-pumping couloirs, but there are plenty of stops along the way to take in the incredible ice structures along the glaciers (and take a breather!). The total ski time is approx. 4-6 hours round trip from Chamonix, and you'll be well and truly ready for après (with plenty of ski stories to tell) by then.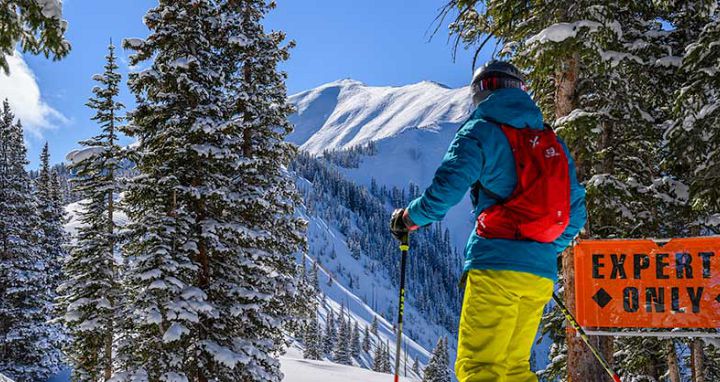 Home to some of the steepest descents in Colorado, the infamous Highland Bowl is a must-ski when in Aspen. Each morning, skiers eagerly await the flip of the 'open' sign by ski patrol, which signals the go ahead and the mad rush to make the sweat-inducing ascent (over 780 vertical feet) to the summit (12,392 feet above sea level). From there, skiers fan out along the ridge, choosing one of the 18 named ski lines, each with a fantastically steep pitch between 35-48 degrees, making for some unforgettable powder turns as they make their way down the valley. For those still working up the courage to make their descent, the view from the top of the Maroon Bells is spectacular and sure to inspire. On average, the round trip take approx. 2-3 hours, with the norm being celebratory drinks at Cloud Nine post-ski!
Find the Highland Bowl on the Aspen Highlands Trail Map here.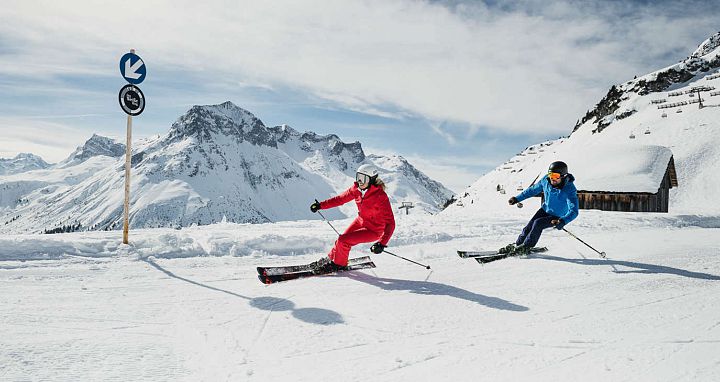 Der Weiße Ring ("the white ring") in Lech is a legendary ski track; so much so that it attracts thousands of skiers from all over the world to prove themselves on this challenging ski route. Offering over 22 kilometres of trails and 5,500 metres of altitude difference, it is a heart-pumping adventure for those keen to take it on. Starting at the top of Rüfikopf mountain in Lech, skiers take a series of marked trails and lifts around the Omeshorn mountain linking Lech, Zürs, Zug and Oberlech, with a number of viewing platforms along the way offering incredible mountain views of the Alps (and a chance to catch your breath!). Ski along the route of legends on Der Weiße Ring!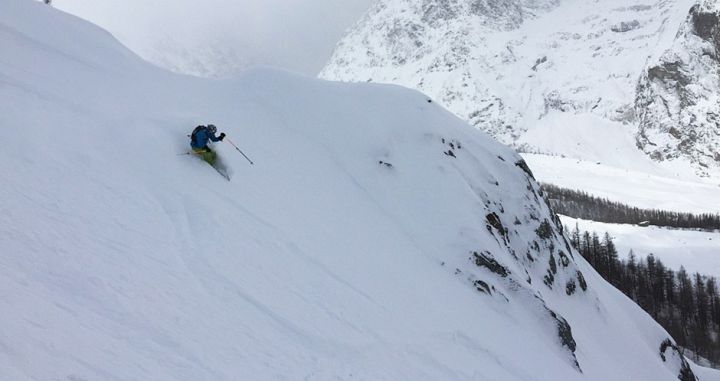 The Toula Glacier is the most famous off-piste ski run in Courmayeur and for good reasons! From the top of Point Helbronner, skiers are spoilt for choice with endless off-piste runs, however, it is the Toula Glacier that is our top pick. Access is via a series of short hikes and metal staircases to the drop-in point. The descent into the glacier is phenomenal, with steep pitches and a number of couloirs to make even the most advanced skier happy. The run is a leg burner, with over 2000m of vertical in often super deep snow conditions, and trails all the way down to La Palud. On a bluebird day, the stunning natural beauty of the Courmayeur area and the majestic Mont Blanc Massif makes it almost hard to concentrate on the descent!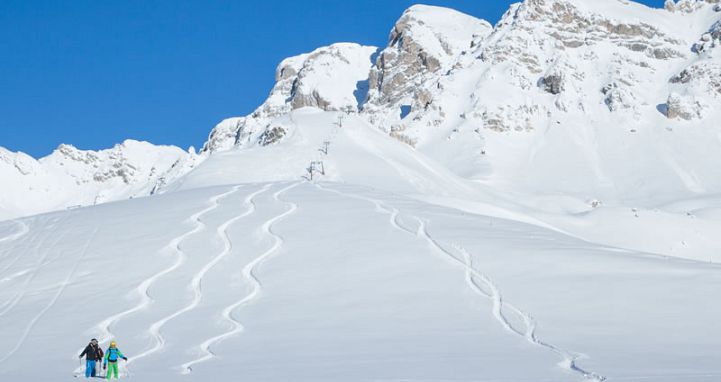 There aren't many ski routes in the world that you can fully complete without removing your skis... the famous Sella Ronda ski tour that runs over the four passes of the Dolomites is one of these! Skiers are spoilt with a one of a kind network of lifts and 40 kilometres of ski trails in a spectacular setting surrounded by rocky peaks and snow-covered landscapes. The surrounding valleys are nothing short of spectacular, and offers skiers a different view each time they ski - the Sella Ronda can be attempted clockwise or anticlockwise! The average total ski time is approx. 1.5 hours, and can be completed by skiers of intermediate level and above, making it incredibly popular and a must-ski when in the Dolomites.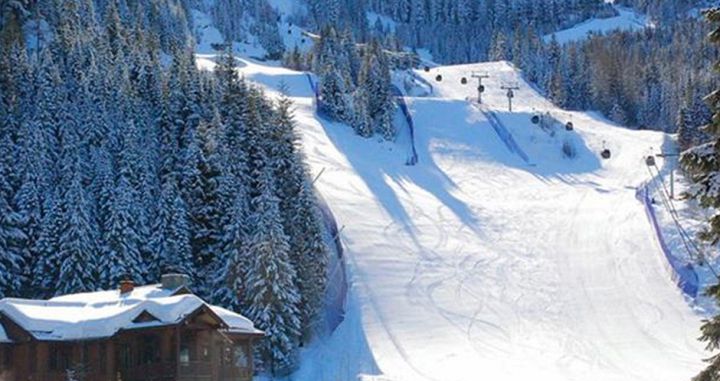 A visit to Whistler Blackcomb is not complete without a super-fast nail-biting descent down the Dave Murray Downhill run (names after a famous alpine ski racer). Dropping more than 3,300 vertical feet in just over a mile and a half, it is the second longest downhill in the world, and the site for popular ski events during the 2010 Olympics and World Cup races in Whistler. Rated a single black diamond, it boasts a 45-degree pitch, long winding turns, and rolling terrain, allowing for big air (for those who dare), and big-time speed; professional skiers can tackle the run in just under two minutes! Fine tune those skis (you'll need them to be sharp!), grab your ski buddies, and gather the courage to attempt the Dave Murray Downhill.
Find the location of the Dave Murray Downhill on the Whistler Blackcomb Trail Map here.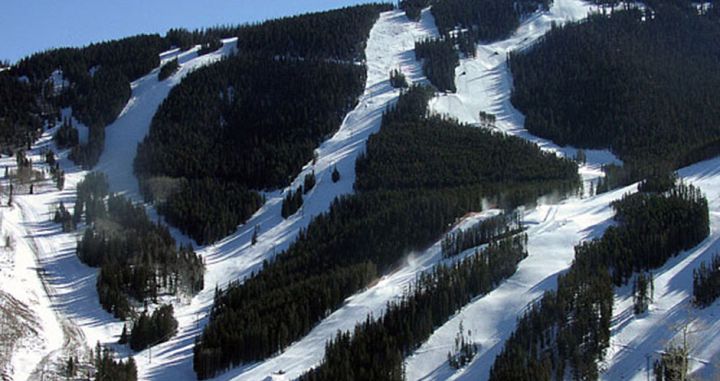 Another famous downhill ski course that is well known among skiers is the Birds of Prey run in Beaver Creek. Home to the Mens FIS Ski World Cup, it is impressively designed, and often referred to as being both beautiful and dangerous; it boasts some of the steepest pitches and most difficult terrain on the world alpine circuit. Located at the top of the Cinch Express Lift, skiers are treated to over 2,470 ft of vertical descent, and if you've ever skied Beaver Creek you'll know just how incredible their grooming system is - this is no different on the Birds of Prey run, in fact, it will probably be one of the fastest runs you've ever skied!
Find the location of Birds of Prey on the Beaver Creek Trail Map here.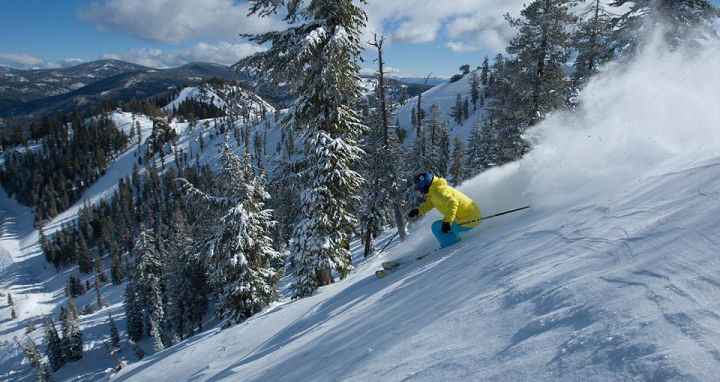 This iconic ski run is more of a ski zone; the whole iconic KT-22 ski area at Squaw Valley is worthy of a mention. It is an expert's nirvana, boasting over 2,000 vertical feet of chutes and cliffs, and is often voted as some of the best advanced terrain in North America (and the best chairlift!). It is truly unmissable: as you drive into the valley you can spot the towering peak and it's iconic steeps, and you often hear the hooting and hollering of skiers as you make your way up the KT-22 chairlift. Most of the chutes are steep and tight at the top, before opening up and offering a real leg burner for skiers, particularly on a deep snow day. KT-22 is definitely not for the faint hearted, with many skiers opting to stick to the sidelines, but those expert skiers keen to tackle this iconic area will be surely satisfied.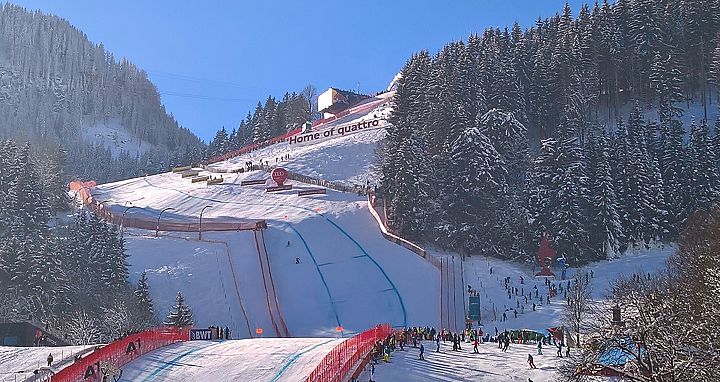 Right from the get-go, the iconic Streif in Kitzbuhel has been considered to be extraordinary. Home to one of the stops for the World Cup, it is one of the most challenging slopes, requiring perfectly tunes edges and meticulous timing - in fact, many skiers racers are forced to endure centrifugal forces of 3.1g during their descent! Alas, no need to go THAT fast, however, advanced skiers can try their luck on the 3.3 kilometre course which offers an impressive 860 metres of vertical drop, plenty of tight turns, and smooth rolling jumps. The most impressive part of the Streif is the pitch, with the steepest section of the course boasting an 85% gradient!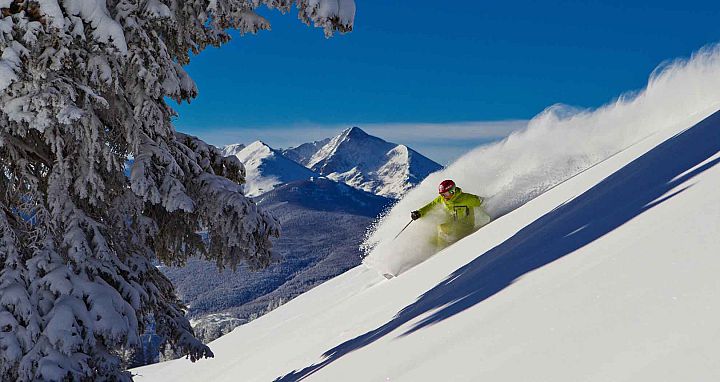 The Back Bowls at Vail are more than iconic, they're legendary. Again, we're cheating here with a whole zone, but for anyone who has been lucky enough to experience this incredible area can agree there are too many great runs to name! Encompassing 3,017 acres, the options seem almost limitless for advanced and expert skiers who seek those ungroomed leg-burning descents. Take your pick of the bowls (Sun Down, Sun Up, Tea Cup, China, Siberia, Inner Mongolia, or Outer Mongolia) and start knocking out the runs, each offering a different experience. Whether you're looking for open powder trees and a moderate pitch, or steeper cliff drops and pillowy mounds, there is truly something for everyone, including intermediate skiers. The best part about the Back Bowls at Vail are their south-facing location, meaning the snow sticks around a little longer and fresh tracks can be found days after a storm. Scout had a truly memorable day in the Back Bowls last time we were in Vail!
Find a great map of the Back Bowls on the Vail Ski Resort Trail Map here.