World's Best Ski Resort Bars
May 14, 2020
Après is one of the best things about a ski vacation, and there are plenty of fantastic hot spots to choose from. With endless options across all of the ski resorts, we had to narrow it down to only those bars you can visit without taking off your ski boots! Whether its starting your day with a bloody mary, or ending it with some table-top dancing, Scout has compiled a list of the best ski resort bars in the world.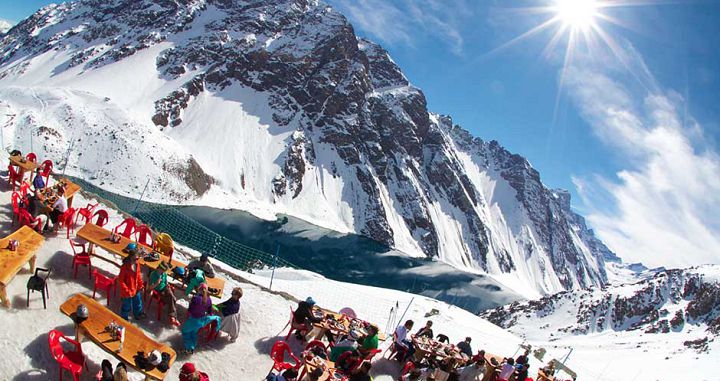 There is one bar that rightfully sits at the top of our list of best ski bars in the world - Tio Bob's in Portillo. Enjoy some belly-warming soups and hearty burgers by the fire, or bask in the sunshine on the outdoor deck overlooking the stunning Aconcagua (the highest peak in South America). Ski up, clip out, and grab a round of Pisco Sour's to celebrate a fantastic day on the slopes, and once the sun starts to set, don't be surprised if your ski boots hit the table tops!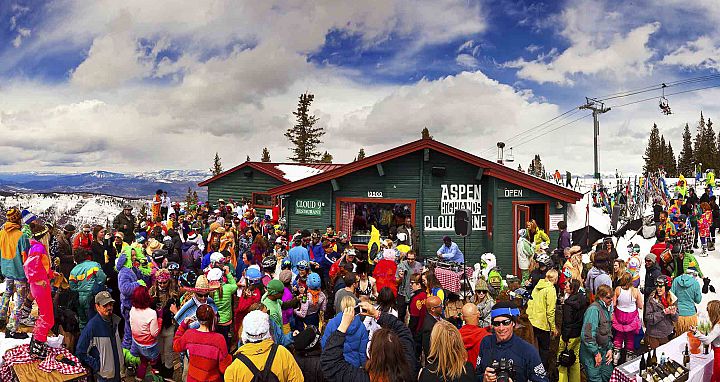 Cloud Nine is well known among the skiing community. In fact, many say it is one of the most wildest ski parties in Aspen. Formerly an old ski patrol shack, Cloud Nine is the epitome of après-ski, and it is not unusual to find oneself in the midst of table-top dances (ski boots included!), and under a shower of Veuve Clicquot. If you are one of the lucky ones to score a prime afternoon reservation, it is truly a wonderfully wild experience. Popular among skiers who have spent their morning tackling the famous Highland Bowl, we don't think there is a better way to celebrate your time on the slopes!
No ski trip to Jackson Hole is complete without a visit to the Mangy Moose. This iconic saloon bar has quenched skiers' thirsts for over 50 years, and is world-renowned for it's lively après ski scene (as well as impressive collection of memorabilia and the giant taxidermic moose suspended from the ceiling). Pop in for a hearty lunch (and jump right back on the tram next door), or put your feet up on their outdoor deck and celebrate a memorable bluebird powder day with one of their signature spicy margaritas. The live music at the Mangy Moose is also not to be missed, and in the event of a larger-than-life evening, you're sure to appreciate a serve of huevos rancheros from the on-site cafe before hitting the slopes.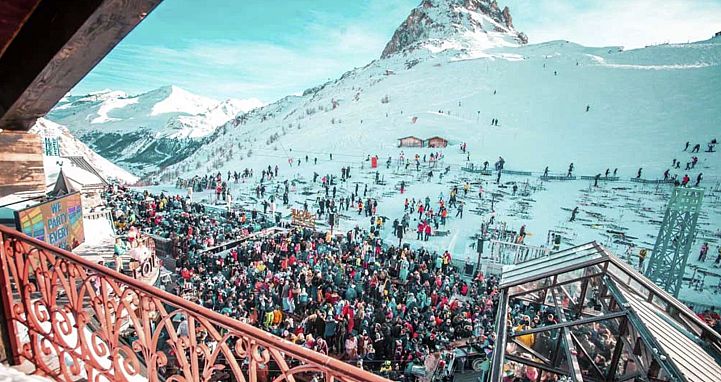 If you've skied in France you're sure to have experienced La Folie Douce - it is an après experience unlike any other! An afternoon in the Alps comes alive with pumping music, flowing champagne, crazy outfits, and plenty of table top dancing to truly tire those skier legs out. It's quite hard to miss the party vibes as the music echos across the slopes, almost taunting you to start your après early. One can enjoy the unforgettable La Folie Douche across many resorts including Val d'Isere (the original), Meribel/Corcheval, Val Thorens and Megeve... just don't miss those last chairlifts home!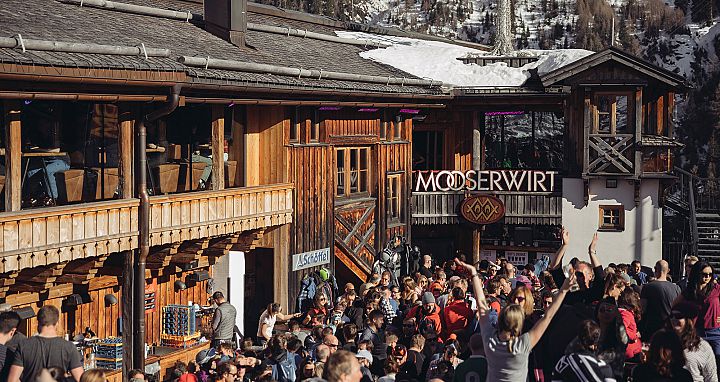 The best thing (and possible also the worst) about MooserWirt is it's location in St. Anton - on the final stretch down the main run to the St. Anton village. This means a spot of après after a top day on the slopes is almost guaranteed, and we truly couldn't pick a better option. Inside the old farmhouse, locals and visitors mingle beneath the glittering disco ball and clink steins full of hearty German beer - in fact, the MooserWirt serves the most beer per square metre in all of Austria! Groove your afternoon away to catchy Europop anthems, or soak up the last of the sunshine on the outdoor deck. Whatever your après style, MooserWirt is a must-visit in St. Anton!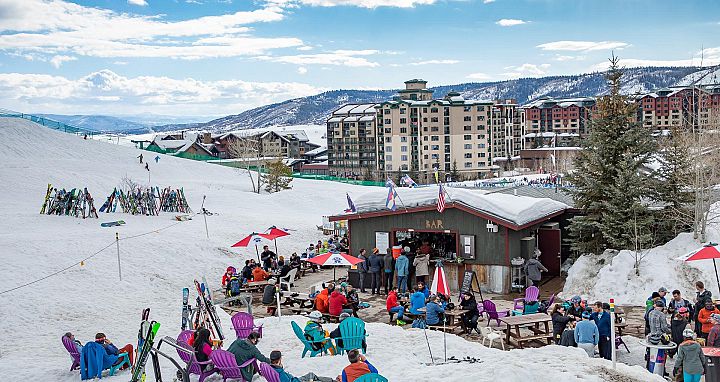 The T-Bar at Steamboat Springs has become an institution among locals and visitors. This ski-in ski-out dive-bar-esque après hot spot is far from fancy, but pull up a deck chair and work on your goggle tan as you bask in the Colorado sunshine with a tasty local brew. Swing past for a quick lunch (the pulled pork tacos are to die for), or stay a little longer and bang some nails in the Hammerschalgen log (once you visit you'll understand!). Blasting 80's hits and chilled reggae music, T-Bar is unassuming and welcoming, and a prime spot for après after a powder day.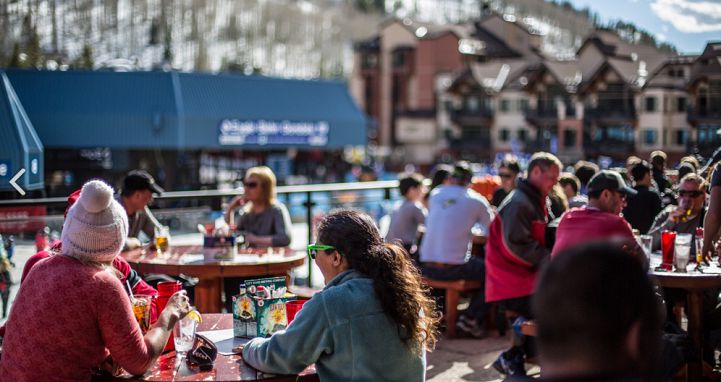 It was hard to choose THE best après spot in Vail, so we're cheating and naming two - the Red Lion (in Vail Village) and Bart & Yeti's (in Lionshead), each offering a different vibe when it comes to après in Vail. The Red Lion is where Vail history was made, with a 50 year tradition of upholding a rowdy après filled with live cover bands and oversized beer glasses (plus the best place for people watching). Bart & Yeti's on the other hand is authentically local, with a great log cabin atmosphere, fantastic food, and a solid beer menu. Stopping by for a beer (and finger-licking ribs) just to learn the iconic story of Bart & Yeti's is a must in Vail.
Note: Garfinkel's also rates up there as a top spot for après in Vail, so comes a close second.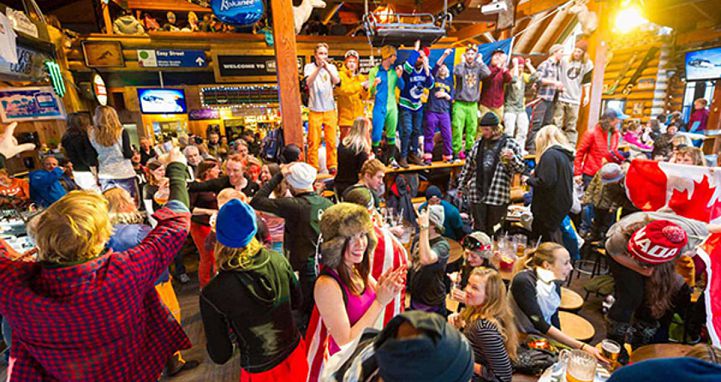 Whistler Blackcomb is renowned for having a lively après scene and there are two establishments that stand out - Dusty's in Creekside, and Merlin's in Whistler Village. If your go-to après drink is a Caesar than look no further than Dusty's; Whistler's original watering hole. It's ski-in location at the Creekside base is the perfect spot to end your ski day with a rocking live music show and mouthwatering BBQ ribs (or you can tackle the biggest plate of nachos we've ever seen!). In the main Whistler Village Base area, there is one spot where dancing on the bar is highly encouraged; Merlin's. It's old-school rec-room party vibe and laid-back mountain cabin decor (plus the great range of beer on tap) is one of the main reasons why après is always pumping at Merlin's.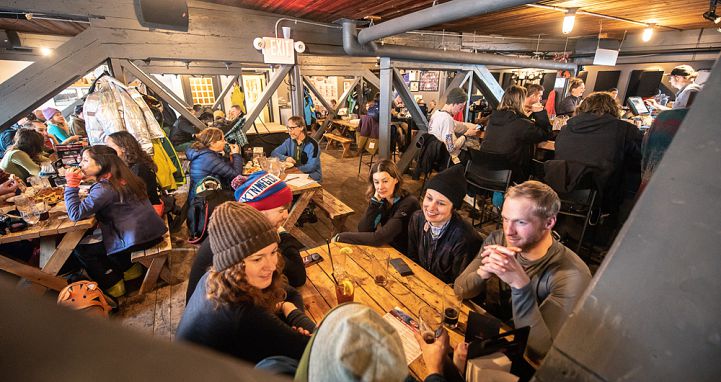 If you're not in your ski boots when you visit Rafters, you'll definitely feel out of place! Situated in the top level (or in the rafters as one could say) of the main Day Lodge at Red Mountain, Rafters is chock full of old-world vibes and the perfect spot for a craft beer with new (and old) friends. The 19th century timber framing throughout, low-key club-house feel, friendly bartenders, and large communal picnic tables makes you feel like you're a real part of the local 'Old Bastards Ski Club'. The fare is good honest comfort food, the beers are cold, and the live bands provide the perfect setting to extend your après well into the evening. Just don't hit your head on the beam on the way out!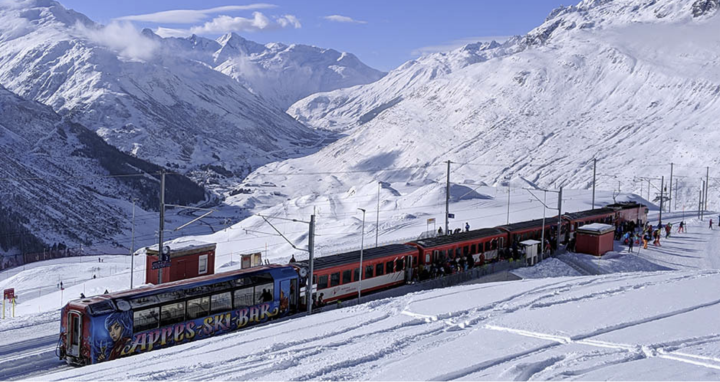 One of the most unique ski resort bars in the world has to be the après ski train in Andermatt. Home to the longest après ski train journey in Switzerland, it is the perfect way to end your day after making the ski from Andermatt to Disentis. Sit back with a nice cold local beer and enjoy the stunning mountain views; it is definitely a must when in Andermatt, just be sure to plan your decent with the departing trains as to not miss a spot at the bar. Best of all, the train ticket is included in your ski pass!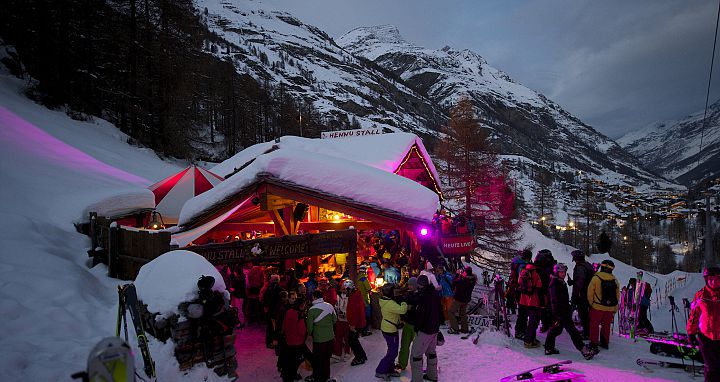 As you make your way down your final run after a long day skiing in Zermatt, you're almost instinctively drawn to the weathered ski shack that is Hennu Stall. It's hard not to miss the pumping après scene that spills out across the piste; the trail of abandoned skis and poles, and revellers with their ski boots partially unbuckled and fists pumping to classic 80's disco tunes. Try your luck with a Jäger-filled shot-ski, or stay a little longer and dance the evening away to the in-house DJ. It's a sight to be seen and an experience not to be missed in Zermatt.
Here are the ones that didn't make the list... but they're a few of our favourites and worthy of a mention.
Eagle's Eye at Kicking Horse - if you're looking for après with a side of stunning mountaintop views, Eagle's Eye at the top of the gondola is unmissable.
Allreds at Telluride - more of a restaurant than distinct après establishment, however, it is the prime spot to take in those impressive alpenglow sunsets.
Bar Gyu in Niseko - seeing as we have a strict 'must be wearing ski boots' policy when it comes to our après bar lists, this one misses out on a top spot, however, for a delicious Japanese whiskey night-cap, you can't go pass Bar Gyu (aka, the fridge door bar).