Hot tubbin' monkeys
Dec 9, 2020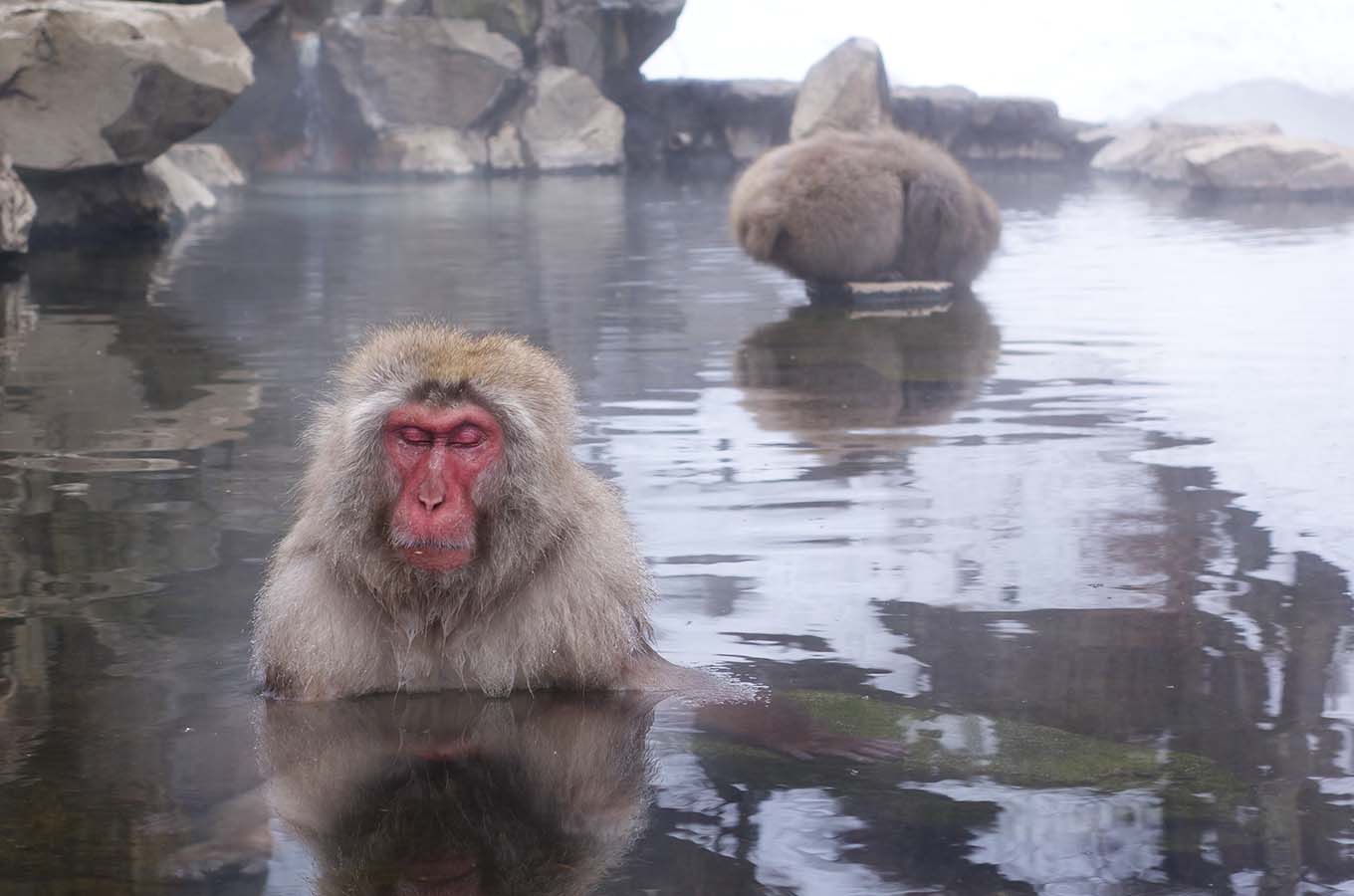 Ski vacations don't have to all be about skiing and boarding. There are plenty of 'side-show' attractions to keep everyone entertained when the planks and boards are off. One of the more unique experiences can be found in Japan – a visit to a snow monkey park where the monkeys soak themselves in natural hot springs.
Visitors to nearby resorts of Shiga Kogen, Nozawa Onsen and Hakuba have the opportunity to take a half day or full day excursion to see this quite incredible site at the Jigokudani Monkey Park. We boarded an excursion from Hakuba with Sanroku Tours to see what it's all about.
The bus trip starts with a one hour drive down the valley and through Nagano. After arriving at the car park it was about another 25 minute walk through a beautiful forest (bring appropriate footwear!) to get to the park entrance. Here we encountered a pileup of tourists all vying to catch a glimpse of a bare-bottomed snow monkey that was scrambling along the path to get to the springs. There was no need for such a line up, since the further we walked, the more monkeys we saw, large and small, all leaping and bounding around playfully.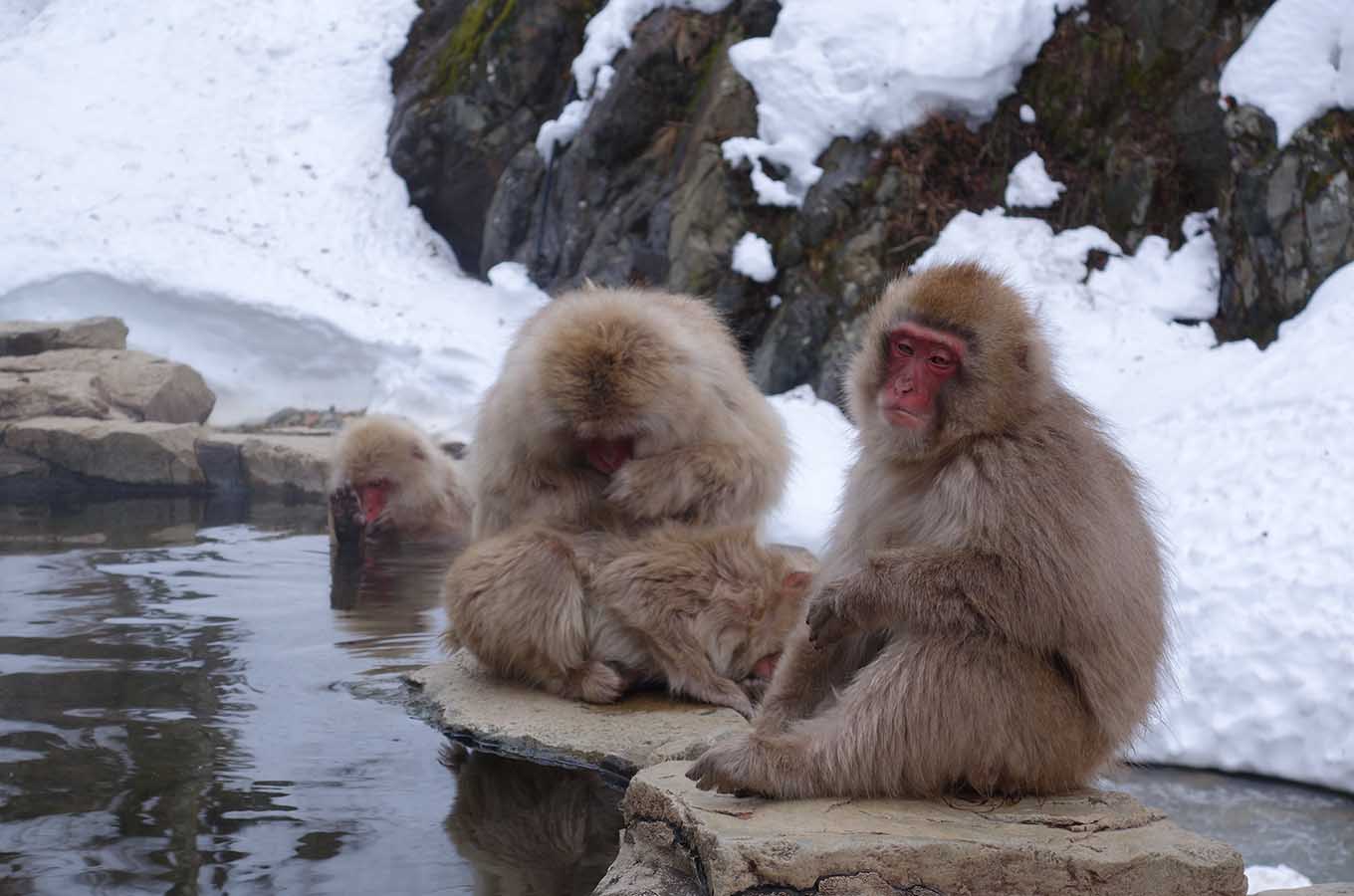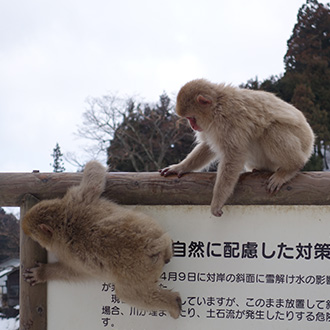 When you arrive at the hot spring, the sight of these monkeys soaking themselves in the water is really quite hysterical. It's actually pretty mind blowing how 'human' their behavior appears – especially in the way that they sit back, shut their eyes, and let the warm water soothe their bodies just like tired skiers in a hot tub. Adding to the cuteness is their pink faces, which look like they're flushed with the heat of the springs (it's actually their natural color).
Our wonderful guide had explained that these monkeys are not part of a tourist attraction and are 'wild' since they're not kept in captivity and go to the hot springs under their own volition. On the day we visited it wasn't terribly cold, and so they weren't all piling into the hot springs like they do on freezing days.
At one stage a park attendant threw some seeds into the water to encourage them in so everyone could snap away with their cameras… at which point we were thinking: hmm, definitely not a tourist attraction.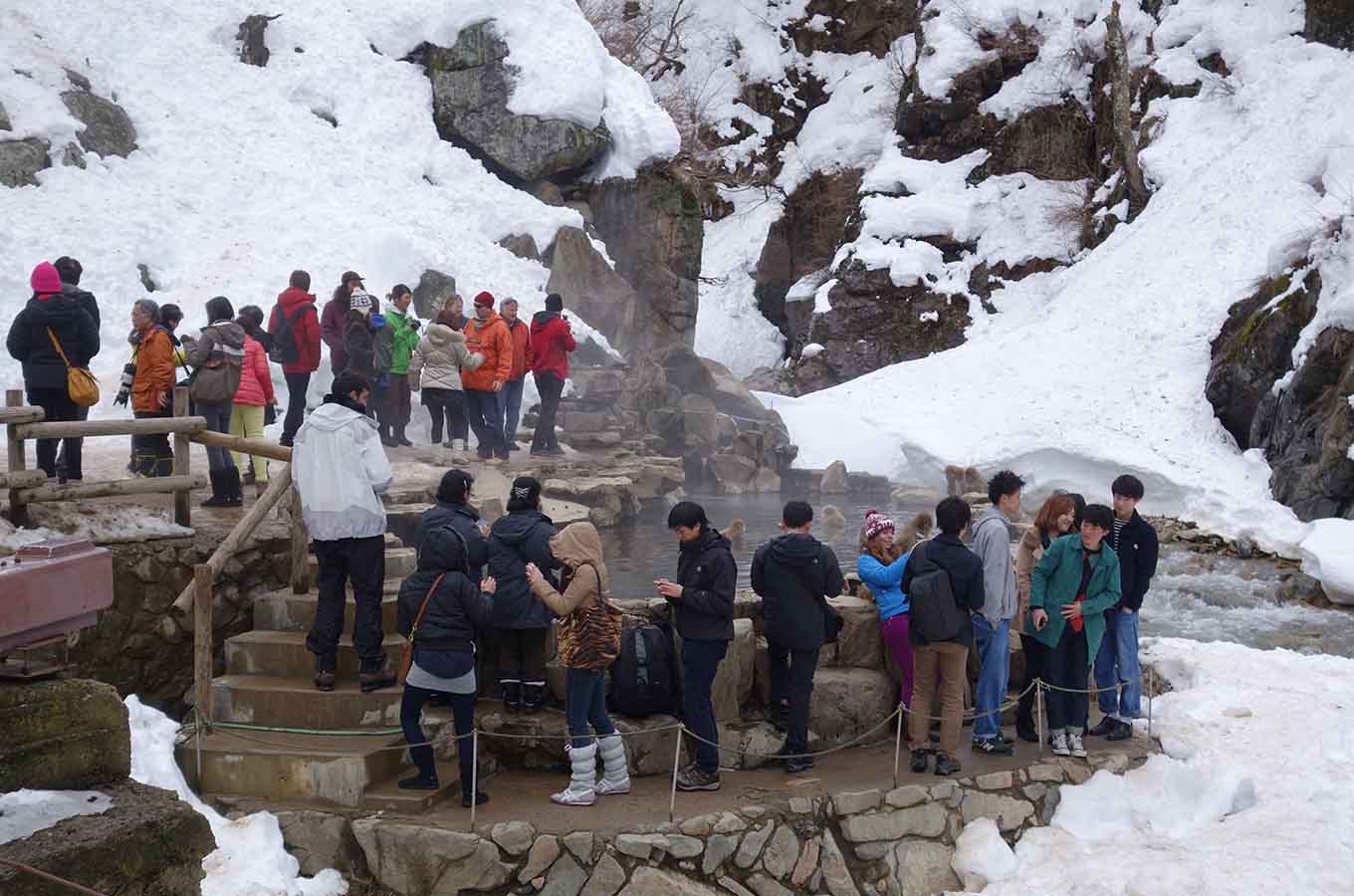 While the monkey park was fun, we really enjoyed the second part of the day which included an incredible six course Japanese lunch in a lovely restaurant in Obuse – a small town with wonderful old wooden houses. The Scout crew would have loved the chance to have a walk around, but we had to get back on the bus for our next destination – the Zenkoji temple.
Built around 1400 years ago, Zenkoji is one of the most visited temples in Japan. It's quite magnificent and it contains what many believe to be the first Buddhist statue ever brought to Japan. There's an array of stalls selling good luck charms (including one for strong legs – perfect for skiers) and you can also stock up on gifts at the cute stores on the road up to the temple.
After a quick sake tasting it was back on the bus for our return to Hakuba. It may have been hard to tear ourselves from the slopes (and hotel inspections!) for a whole day, but it's not every day you get to see monkeys lounging around in hot tubs. Definitely worthwhile.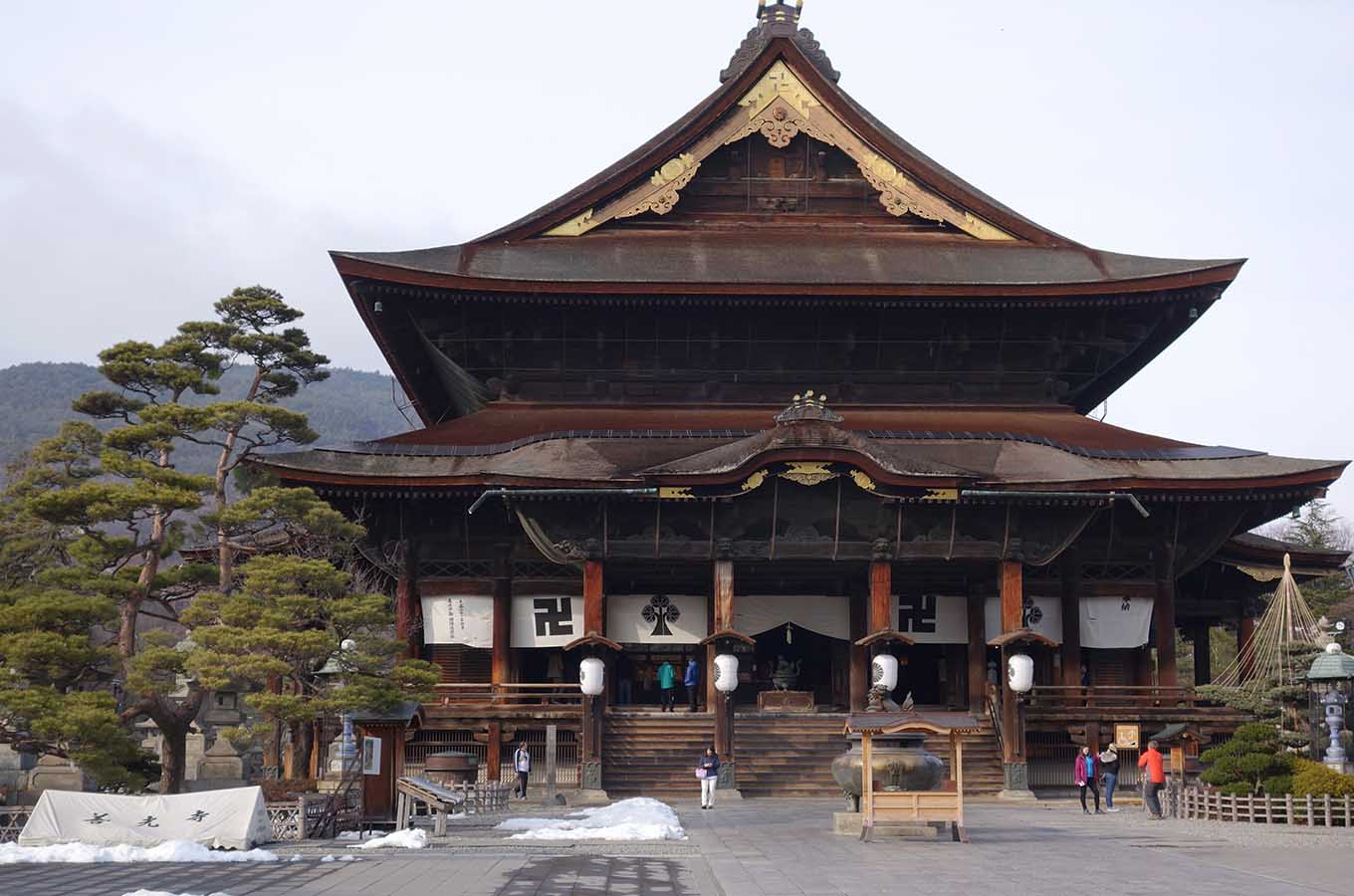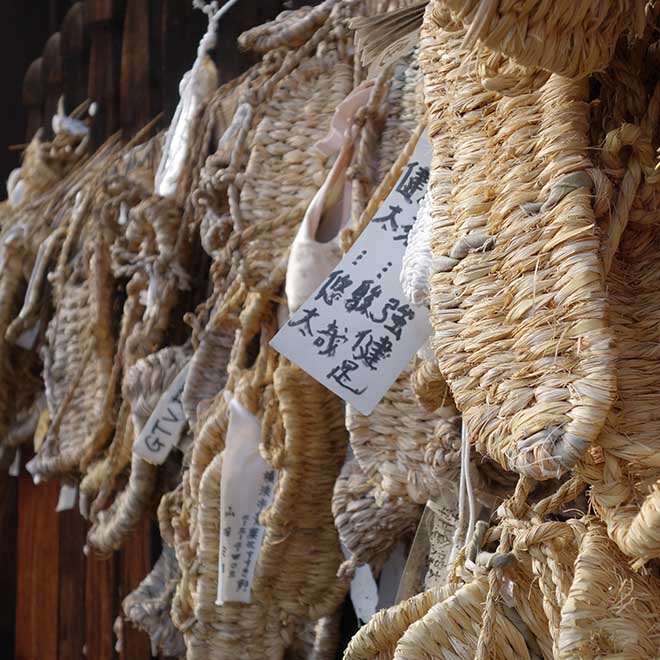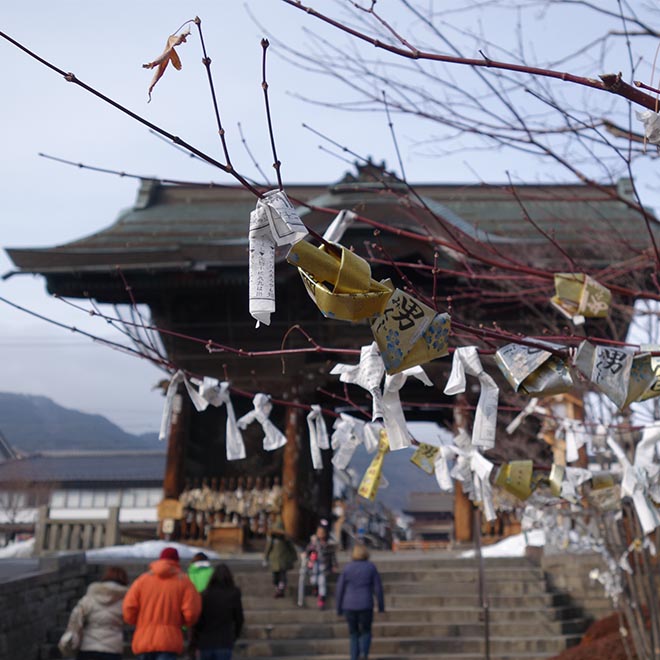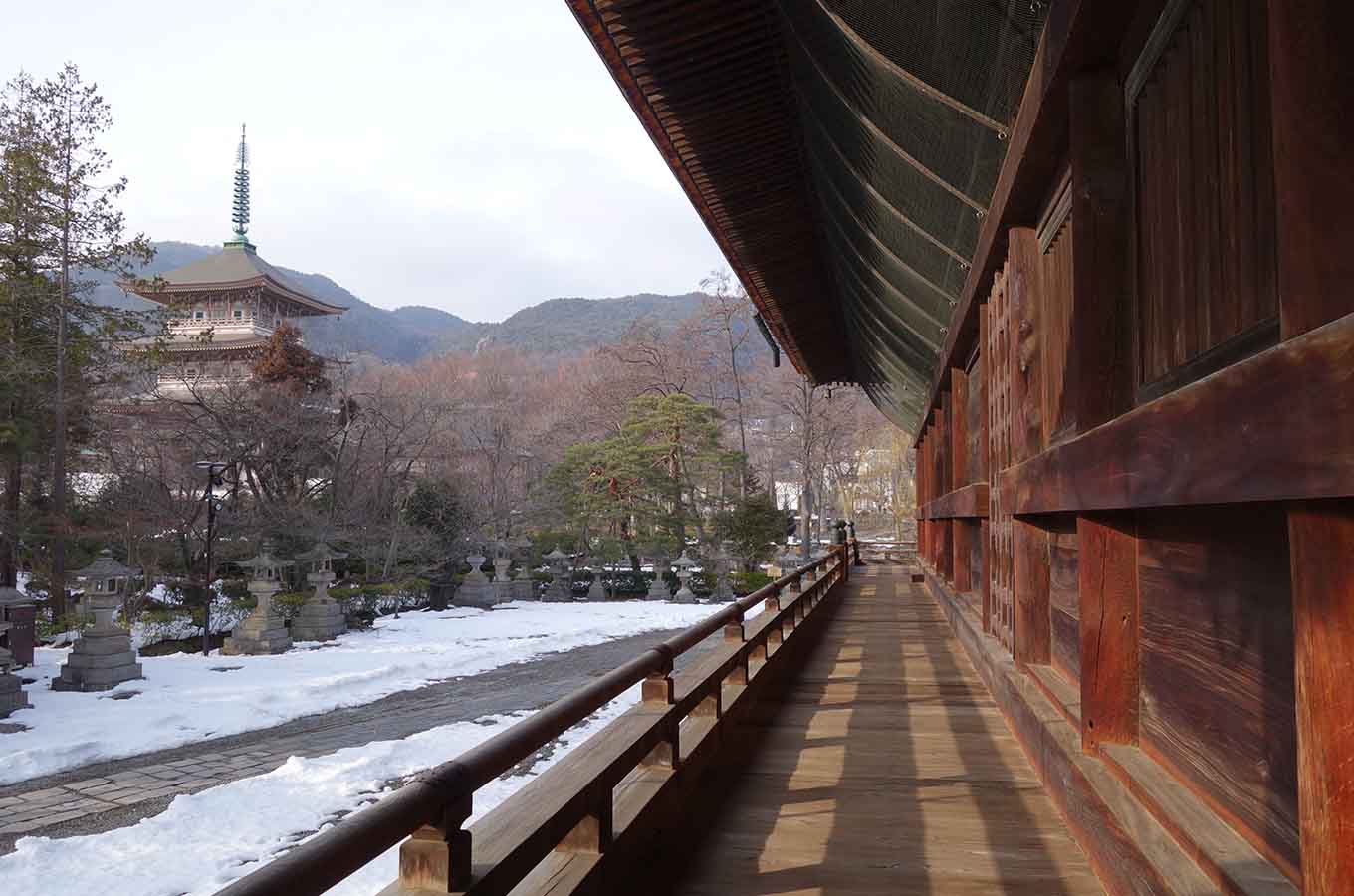 Details:
Group Snow Monkey tours from Hakuba can be organised via Scout as part of a Hakuba Ski Package. Scout can also organise private tours from any of the resorts in the Nagano area, including custom made itineraries visiting other temples and towns.