Europe's Most Charming Ski Resorts
May 12, 2020
It's one of the number one questions we get asked at Scout - what is most charming ski resort in Europe? So, we've compiled a list of of those we think are the most authentic and offer a wonderful cultural experience (alongside fantastic skiing!). From cobble-stoned streets and horse-drawn carriages, to snowy lanes and hamlets dotted with century-old wooden barns and historic buildings, there are a handful of resorts that are especially charming and our top recommendations to those seeking a more authentic European ski experience.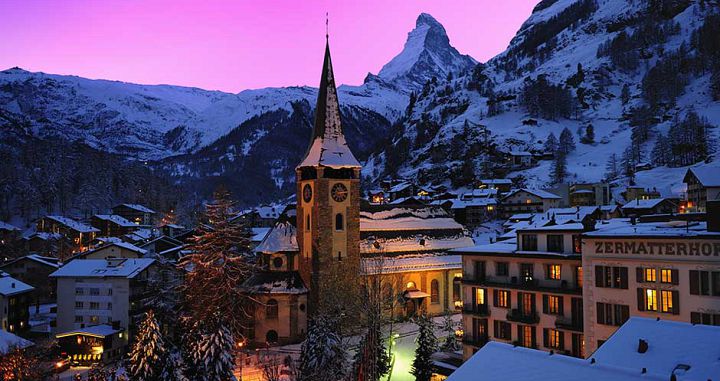 Against the backdrop of the mighty Matterhorn, Zermatt is one of the most charming and historic ski villages in Europe. Most visitors to Zermatt arrive by train (and on one of the most scenic train rides in the world) before being whisked to their hotel on a small electric buggy - Zermatt is car free which adds to the charm. The village is divided by a fast flowing river with one side featuring the cobble stoned main street filled with boutiques, restaurants, chocolate shops and bars interspersed with grand historic hotels and a bunch of centuries old tiny wooden chalets (that are now mainly just for admiring), the other side has a plethora of hotels and chalets from ancient to modern, small to huge.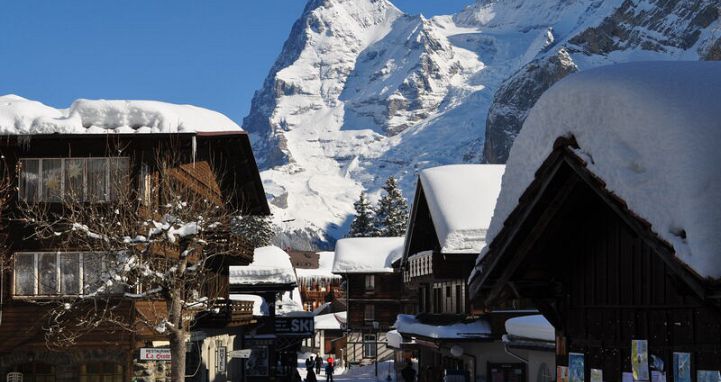 If you're looking for a Swiss ski resort that could be featured on the front of a chocolate box, then look no further than Murren. Car free and set high in the mountains this tiny village feels like stepping back in time. The only way to get to Murren is by a tiny little train or a cable car. The village is small and (apart from one or two buildings) completely charming. There isn't much to it - unlike Zermatt, Murren is quiet. There are no rowdy bars (well ok perhaps one… on a few nights a year) and just a few shops and restaurants. However its friendly atmosphere, great skiing, adorable charm and spectacular scenery will make sure you never want to leave.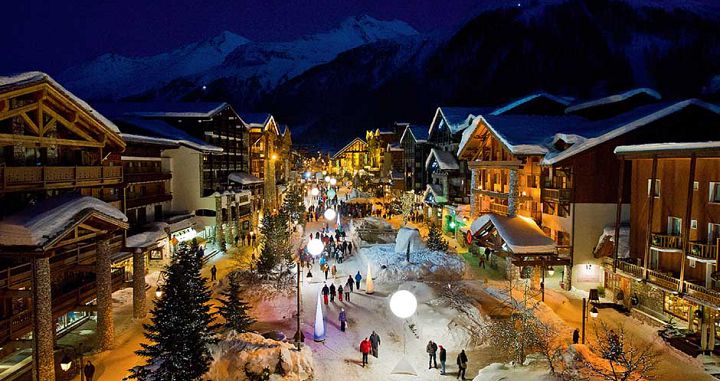 Val d'Isere in the Haute Savoie region of France combines a mostly charming European village with a world class ski resort. We say "mostly" because while there is a wonderful historic centre, there are some parts that clearly escaped the charming brief. However if you can look past them and focus on the old town, the markets selling fromage and saucisson, the excellent restaurants oozing French character (and raclette cheese), the tiny bars with locals gossiping and the working farm with attached barn and restaurant where you can savour a home made cheese fondue... Val d'Isere really has it all. Best of all, the skiing is fantastic.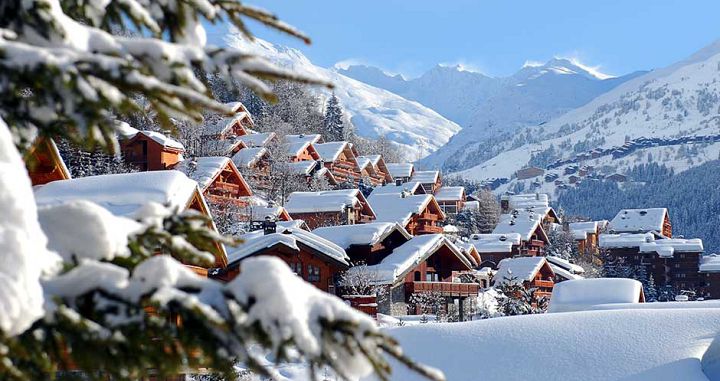 This chic chalet filled village of
Meribel
, nestled high up in the middle of the Trois Vallees (3 Valleys), is a top pick for when you want a charming French village combined with excellent high-altitude skiing. The small main street has several shops selling local food specialities and plenty of restaurants dishing up raclette and fondue. Don't miss the weekly markets where you can stock up on all sorts of local produce. While the village is purpose built for skiing with a mix of new and old buildings, the extensive use of wood helps to give it that charming feel.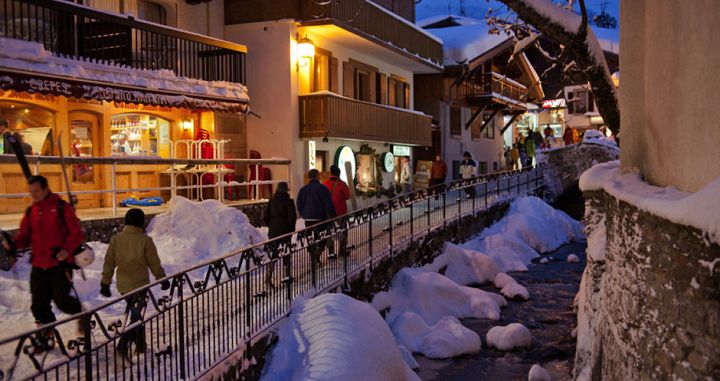 Megeve has one of the most magical, charming central villages that you would be forgiven for thinking you've accidentally arrived on a film set. The bustling car free centre is filled with high-end boutiques, fancy restaurants, vibrant bars and scrumptious chocolate shops. There's even an ice skating rink and babbling brooks to add to the whole French Alps scene. The best way to get around is on horse and carriage which wait patiently for customers in the main town square. Just 90 minutes from Geneva airport and surrounded by a huge ski area (perfect for intermediates) Megeve is an easy choice.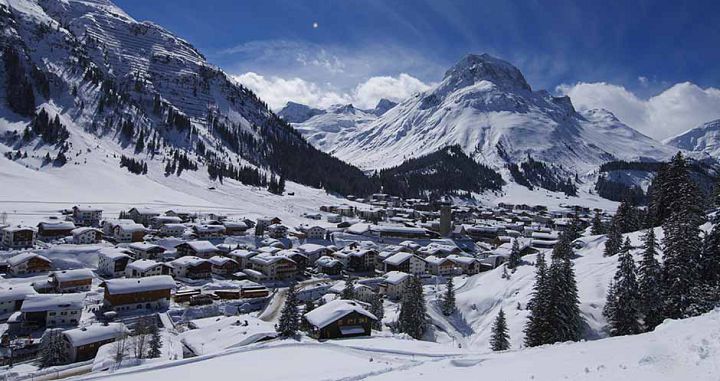 The picturesque village of Lech in the Arlberg region of Austria is a must-visit for all skiers. While the village is not huge, the small main street is a wonderful scene of shops and open air après bars with Champagne sipping, fur coat wearing glamorous Europeans mixed with families and dirndl (traditional Austrian costume) wearing waitresses. The iconic "onion domed" church sits at the end of the main street with stunning mountains completing the backdrop. Across the river from the main street the slopes cater to all levels of skiers. You'll need to ski hard too to work off all the delicious and hearty five-course meals served at your hotel every night.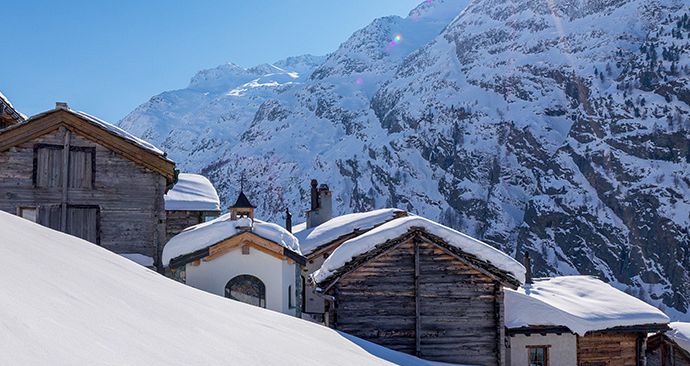 Little known Saas Fee packs a punch when it comes to charm and spectacular scenery. Better still, it has some of the highest snow-sure slopes in Europe which makes this Swiss ski resort a smart choice. Being so high in the Alps it feels like you can almost touch the glaciers - the views at Saas Fee are breathtaking. The small but vibrant community has a wonderful local feel that is missing from many purpose-built ski resorts. It's hard not to notice the whiff of cow manure as you walk past one of the many centuries old barns that are scattered throughout the village, with most still obviously being used today for their original purpose.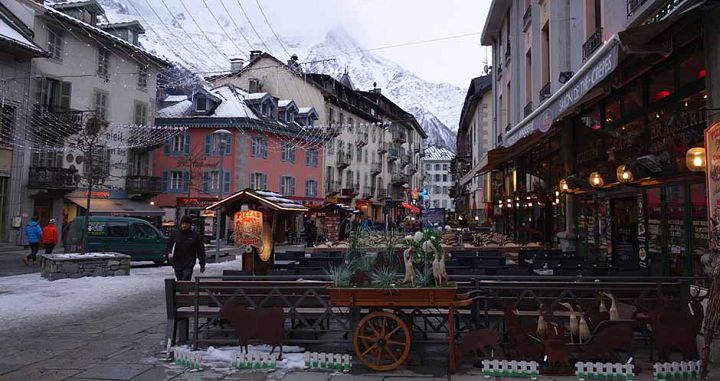 The bustling town of Chamonix is easy to get lost in, both physically due to its size, and mentally thanks to the dramatic mountains that completely surround it. The best way to get to Chamonix (90 mins from Geneva) is to arrive by train to the quaint station right in the centre. It's like something out of a Wes Anderson movie. Scout loves wandering the streets and taking in the scenes of the many great restaurants and bars that are filled with adventurers exchanging stories about which couloir they skied that day. And if you're after some new ski gear you are spoilt for choice thanks to the large number of shops to explore.
Italy's most charming and fancy ski resort, Cortina d'Ampezzo is the place to see and be seen. Take in the many historic buildings in the car free centre as you wander around listening to the church bells ringing and gazing at the shops and glamorous Italian visitors completing their afternoon Passeggiata (promenade). The town centre is filled with little bars serving delicious coffee in the morning and aperitif in the evening. Snack on some delicious Chichetti (Italian tapas), salumi and cheese while you quench your thirst with an Aperol Spritz and reminisce about the day's skiing (and that delicious lunch in one of the many mountain refugio). Set in the remarkable Dolomite mountains Cortina is a must, particularly for lovers of food, wine and skiing!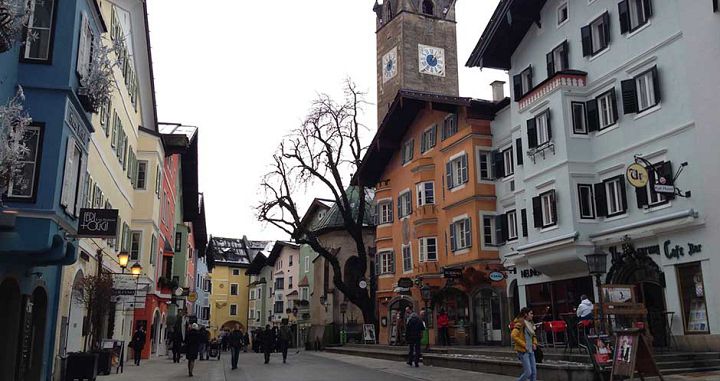 The beautiful, ancient town of Kitzbuhel in the Tirol region of Austria is home to the world's most famous downhill race - the Hahnenkamm. If you happen to be in town for that week it is party central (and the Austrian's sure know how to party!). However at any other time, Kitzbuhel is relatively quiet and the charming centre of town is a wonderful place to meander, shop and dine in style. It's particularly great for those interested in historical architecture with medieval buildings featuring buttressed walls and painted frescos dotted along the cobble stoned streets.