Skiing in Alaska challenges mind and body
Feb 3, 2015
For many, the idea of skiing in Alaska requires a healthy bank account and helicopters in order to ski some terrifyingly steep terrain.
Scout's bank account isn't exactly the kind that agrees with helicopters, but I was determined to taste Alaska. So in April 2014 I teamed up with my best ski buddy, Torrey, and signed up for a week of ski mountaineering with a guide, Jed Porter, from International Alpine Guides.
Our week started in Alaska's biggest city, Anchorage, where we met Jed for the first time. Our goal was to head to Valdez and spend five days ski touring and hiking the Thompson Pass area. It's fair to say that Torrey and I weren't hugely experienced in backcountry skiing, let alone mountaineering. But we knew we could confidently ski almost anything and we were fit and determined.
So when Jed suggested a "shake down" on arriving at Thompson Pass (it wasn't even scheduled as a ski day since it was a driving day) we jumped at the chance to get the skins on.
The afternoon consisted of a four-hour climb on skins followed by a 30-minute ski. If that was his idea of a "shake down" I was nervous what the coming five days of touring was going to be like. But being in the Chugach Ranges and seeing those mountains was breathtaking, and our threesome was getting along well, so I was confident it was going to be a great week.
What transpired over the next five days was so much more than just a great week.
Each morning we would leave our cozy digs at the Best Western in Valdez and drive the 30 minutes up to Thompson Pass. Jed created a different route for each day, which would mostly consist of 5-6 hours of skinning, followed by 1-2 hours of bootpacking and 45 minutes of skiing back down. We were there during the last week of April and the snow conditions weren't great – generally it was icy, crusty, hard-packed snow. Fortunately we got lucky with some great weather – mostly blue-sky days with only one cloudy day that did give us some fresh snow.
The snow conditions didn't matter because the skiing part was like a bonus to the main event, which was the challenge of each day's climb among the spectacular mountains. And to say it wasn't tough would be lying. We'd stop for 10-minute breaks here and there, snacking on trail mix, candy, cheese, crackers, salami – anything that would keep our energy levels up. There were more than a few times I said in my head "are we there yet", "my legs are done" or "I'm giving up". Torrey was having problems slipping, I was yet (and still am yet) to conquer the kick-turn. Yet we never did give up - there was always something left in the determination tank to get to the top. I think it was after the second day that Torrey announced that this week was like "summer camp on crack".
We did cheat one day and get a heli-bump – a 10-minute lift to a saddle that would have taken a whole day just to skin to. With not a soul around we made the only ski tracks through the powder in the bowl then hiked back up to the top of a 45-degree ramp where, for the first time in a long time, I actually felt my knees trembling with fear. Making it down was one of the biggest and most satisfying adrenaline rushes I'll ever have. That day's ski out to our parked car consisted of two hours of bush-bashing followed by a river crossing – we kept our ski boots on through the icy water, which is definitely a fast way to sooth tired feet. So although it started with a heli-drop, even that day wasn't an easy one.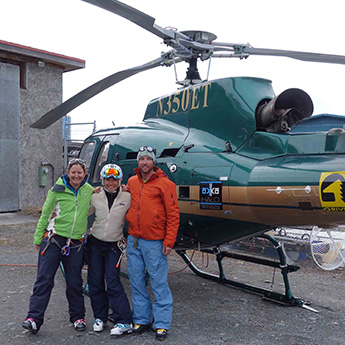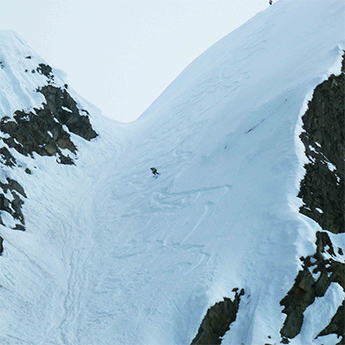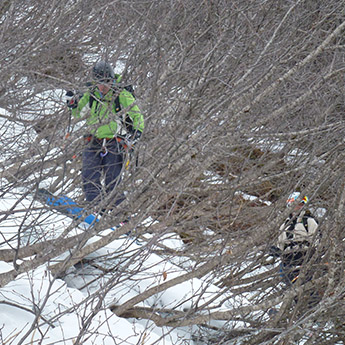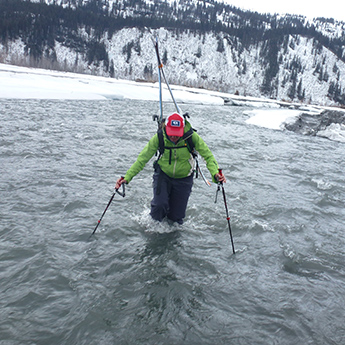 But perhaps our biggest challenge came on our final day. A 4pm flight from Valdez airport had us on a strict timeline. Jed's idea was a route called the Berlin Wall – another long skin followed by a long ridge climb. This time the climb got, let's just say nail-biting, as we had to shimmy along a ridge that disappeared each side, and were belayed around a rock covered in sheer ice. But we made it … and we even made our flight.
Torrey and I aren't mountaineers by any standards, so the week definitely had us out of our comfort zone. But we had a hell of a lot of fun, skied some incredible steeps, were awe-inspired by the stunning mountains and although it's corny to say, I learnt a lot about myself. But probably the most satisfying moment was on that final day when Jed announced during a de-brief session; "You girls are as tough as f*ck". Definitely the best compliment I've had in a long time.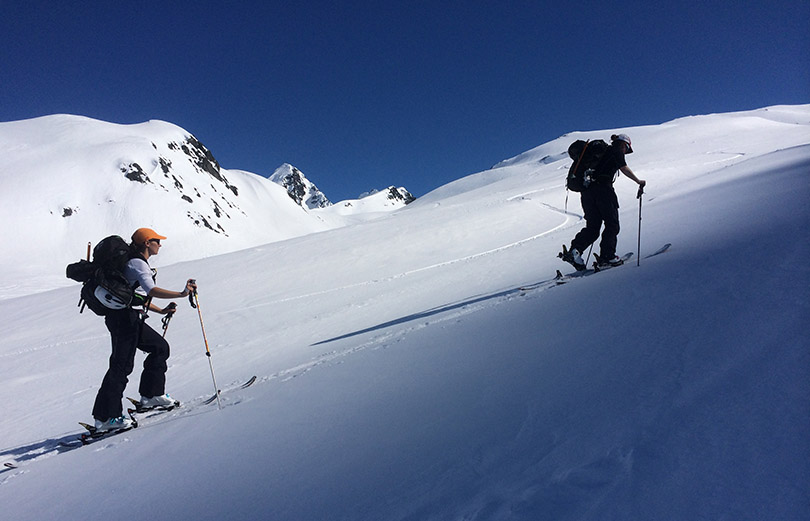 For more information go to: InternationalAlpineGuides.com